Christopher Kane S/S 2016
John Chamberlain's reclaimed sculptures trigger Christopher Kane's hyper hued collection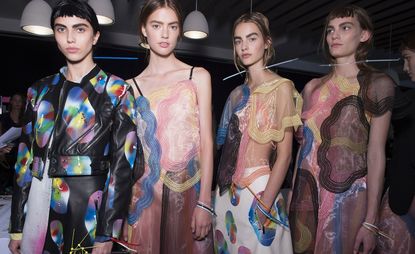 (Image credit: Jason Lloyd-Evans)
Mood board: Christopher Kane started on spring by deconstructing rainbow hued, spray art for a texture clashing show that was otherwise inspired by John Chamberlain's reclaimed sculptures made from twisted and welded automobile parts. These fractured shapes were also accompanied by flashes from Kane's past including rippled cut-outs, neon lace and plenty of python. Entirely new to the mix were plastic 'restraint' ties, illustrative cave man doodles and abstract fringing that morphed out of modern art arrangements cum dresses.

Best in show: His hyper colour finale dresses that were awash with jutting coloured panels and hyper hued tassels, which reminded us of those that you'd find streaming out of the handlebars of the best girl's bicycle on the block. Kane always has a certain knack for flashing us back to childhood.

Finishing touches: Now that he's got his own Mayfair store leather accessories accompanied most looks. This season the Scot's bags were just as technicolour dreamcoat as his clothes combining python and transparent plastic into shoulder-slung messager styles and explosion-shaped clutches.
INFORMATION
Photography: Jason Lloyd-Evans