Saint Laurent A/W 2020 Paris Fashion Week Women's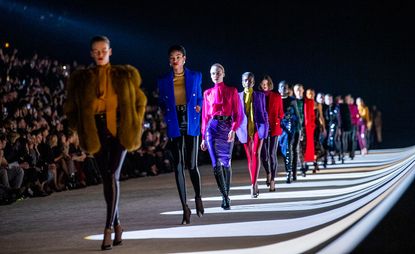 (Image credit: Jason Lloyd-Evans)
Scene setting: The buzzy Place de Varsovie, down the stairs from the imposing Palais de Chaillot and a stone's throw from the Tour Eiffel, has become synonym with Saint Laurent for the last few seasons. After all, what could be more fitting than to have one of the most iconic French maison's stage its show right next to the most iconic French monument? Usually open-aired so that the public can sneak a peek from afar, Saint Laurent's catwalks are a proud parade of Frenchness. This time, though, there was a more secretive atmosphere. Guests arrived to discover a cubic venue entirely covered in mirrors, its interior lined with a lush beige carpet. It felt quietly luxurious, but also like the foreboding of something extremely transgressive. With good reason.

Best in show: Anthony Vaccarello is nothing if not a straight shooter: from the collection's very first look, the Autumn/Winter 2020 woman was completely unraveled. A high-achieving bourgeois lady from the waist up, a BDSM enthusiast from the waist down. Literally. The Belgian designer paired an 80's-inspired ample double-breasted jacket (complete with all the trimmings, from velvet lapels to glitzy golden buttons and a red tartan print) with skin-tight latex trousers. As the show went on, that same theme evolved, and while the wonderfully retro tailored jackets took on colourful - and very Yves - shades of sky blue, berry, ochre gold and peacock green, the latex pieces multiplied. In Vaccarello's hands, the material was given structure - in, for instance, high-heeled boots that screamed "best-seller" -, but also worked almost as chiffon in little blouses with lavallière bows and in mid-calf dresses with a subtle ruffle. Something about the latex glow was mesmerising; but nothing was quite as magnetic as the feeling that the designer had chosen to steadfastly hold on to his vision. Vaccarello is always at his best when he does.

Finishing touches: The lack of buzzy accessories only made the collection stronger, but that doesn't bean there weren't pieces to choose from in order to complete a look. Foulards tightly tied up around the neck were as much an 80's revival as the jackets they often accompanied. And underneath those same jackets were exposed tiny lace bras or bodysuits. The result had an unapologetic, Helmut Newton-esque quality to it. It was a long time since we last saw something like that.