Marine Serre A/W 2020 Paris Fashion Week Women's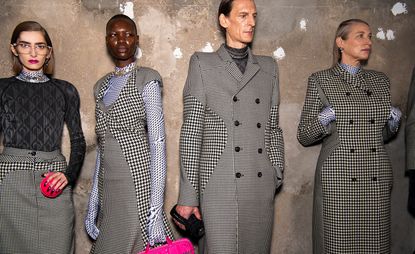 (Image credit: Jason Lloyd-Evans)
Moodboard: This fashion month is becoming a strange one. After the last couple of days in Milan turned sour following a dramatic rise in coronavirus patients in Northern Italy, some in the fashion crowd got quarantined, while others made their way to Paris amidst general anxiety. In this context, Marine Serre's creative universe - one steeped in post-apocalyptic imagery and armageddonian charm - took a whole new meaning. Almost since the beginning, Serre's trademark accessory has been the face mask, consistently reworked through prints, embroideries or strass.
'Are we all gonna be wearing those houndstooth masks next season?' wondered an editor as guests sat down on low benches covered with vintage Persian rugs in a red-lit, mirrored venue. It felt a bit like a funhouse. But then again, everything in the world right now kind of does.

Best in show: If, last season, Serre presented a memorable depiction of what world obliteration due to climate emergency would look like through a collection entitled 'Black Tide', this time the French designer concentrated on the quest for new planets. Inspired by Frank Herbert's 1965's novel Dune, she imagined humans spreading through a series of inter-connected, life supporting planets. The collection was thus structured in different chapters, beginning with a series of desert-friendly draped white dresses worn, of course, over leotards; and evolving into double-breasted structured suits and coats and dayglo pink athleisure-inspired dresses and black parachute-like cocoon volume skirts and dresses. The most interesting pieces, though, were towards the end of the show, where pencil skirts, tops, trousers and jackets - both for men, women and children - were fashioned out of the very same rugs we were sitting on. They felt both classic and deeply modern, and were a welcome surprise from a designer whose trademarks the public has become familiar with.

Finishing touches: Accessories - face masks included - were one of the high points of the collection. Serre has found a way to make them both creative, commercially viable, and undeniably cool. Tiny dayglo nylon backpacks were attached to the models' calves and upper arms while her trademark spheric purses took on metallic chains that tinkled as models walked by. And who doesn't love fashion that not only looks good, but also sounds good?
Receive our daily digest of inspiration, escapism and design stories from around the world direct to your inbox