Maison Margiela A/W 2020 Paris Fashion Week Women's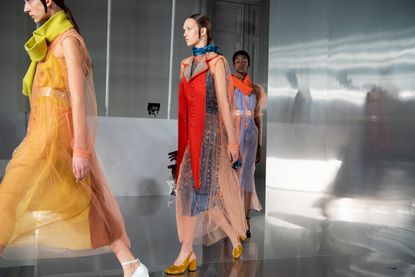 (Image credit: Jason Lloyd-Evans)
Soundbite: 'Restorative'. With just one word — uttered in his podcast The Memory Of, that he has been using in the past few seasons in lieu of backstage interviews — John Galliano perfectly summed up his latest collection for Maison Margiela. The term is highly suggestive: of mending, repurposing and giving a second life to an object. But also of restoring well-being. After all, isn't that what sustainability does for us? With their new label Recicla, the brand is aiming to reconstruct and repurposed vintage finds selected by Galliano himself, each of which will of course be sold as a limited edition item. 'The idea is that this voyage of discovery supports this feeling of being inventive with a conscience', added the designer. 'It's a return to worth, to all those things we believe in.'

Best in show: Then again, mixing a return to timeless classics with unbridled creativity is John Galliano's specialty, and he proved in once again with this collection. An evolution from last month's Artisanal offering (ever since his Dior days, Galliano has always chosen for his haute couture to trickle down into his ready-to-wear in this way), it explored the limits and possibilities of a typical bourgeois wardrobe. It was all there: day coats, reworked in gigantic proportions, split in the middle mixing wool and silk, torn at the seams and worn as a sort of trompe-l'oeil plastron, and, of course, décortiqué-ed and interspersed with tulle. Shirts and trousers worked in unexpected proportions, tulle dresses mixed with heavy wool. A sense of playfulness inundated the collection, from the fabric contrasts to the exquisite palette of crimson, leaf green, cornflower blue, gold, lilac and black.

Finishing touches: With Galliano's Margiela, each look packs a punch, from the assemblage of clothes to Pat McGrath's makeup to, of course, the accessories. 5C bags made from reclaimed skins accompanied new models of Tabi — Maison Margiela's trademark shoe, which has sparked an enthusiastic cult following and become a kind of fashion totem — worked as Mary Janes, lace-up derbies, tasseled loafers and knee-high boots. Hamper baskets were part of the Recicla collection, each one completely unique. The final touch, though, was the biodegradable jewellery, made from chain-inserted fresh fruits and vegetables. It doesn't get much more restorative than that.