Lemaire A/W 2020 Paris Fashion Week Women's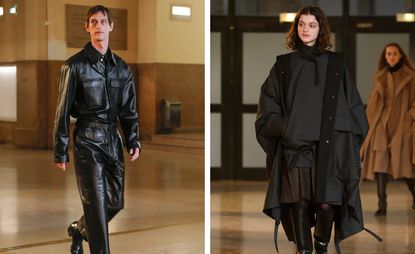 (Image credit: press)
Scene setting: The hall of the Medical School of the Université René Descartes is a timeless portrait of young Parisian life. Conveniently situated in Saint Germain-des-Prés, a stone's throw from the iconic zinc café Le Rouquet, it is a diaphanous space of mid-century charm, mixing straight lines, cream-coloured stone, wood and yellow lighting, and suggests a unique mix of French intellectualism and lighthearted energy that perfectly echoes Lemaire's consistently understated — but insanely chic — collections.

Moodboard: Doubling down on the choreographed catwalk they have favoured in the last few seasons, Christophe Lemaire and Sarah-Linh Tran again chose to envision their show not as a défilé, but rather as a real life scenario where models of all kinds of ages, races and body types — this was easily the most inclusive catwalk of Paris thus far, in a particularly inclusive Parisian season — strolled down the hall, some walking briskly, some lost in their own flâneries, some readjusting their bags the way people do in the street. There were the advanced style-worthy types, elegantly clad in minimalist black, the couples locking arms, the young gentleman carrying a copy of Le Monde, wondering where to go. All of them dressed in a subdued palette of cocoa, raven, cream, tobacco and powder beige. Layering was the name of the game, with ample parachute-like cotton canvas trench coats worn over knitted jumpers, poplin shirts, oversized vareuse tops and workwear-inspired wide-led trousers. Dresses fitted at the hips were interspersed, as were the a few printed pieces, taken from paintings by Mexican outsider artist Martín Ramírez.

Finishing touches: There's a reason why accessories are among Lemaire best-selling pieces: spacious, functional and luxuriously handcrafted, the brand's handbags are everything a city dweller could wish for. Slouchy bags were worn cross-body or on the shoulder and coexisted with the brand's trademark Camera and Carlos bag (a roomy seashell-shaped piece moulded by hand). Heeled knee-high boots were omnipresent, even taking on Ramírez's prints, and prompting one editor to utter 'My goal in life is just to be a Lemaire client'. Then, after a pause, 'Scratch that; my goal in life is to be a Lemaire woman'.