Junya Watanabe A/W 2020 Paris Fashion Week Women's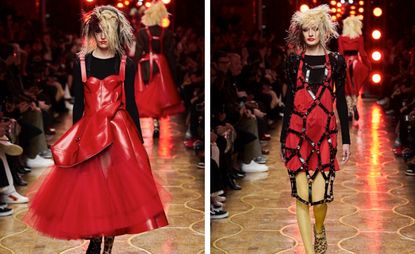 (Image credit: Jason Lloyd-Evans)
Mood board: The Japanese designer let his spliced, bondage-centric, punk garments speak for themselves, bathing his runway in blood curdling red light with his models taking to the catwalk without any music. Then, the punk icon connotations became clearer (and the black and blonde Debbie Harry hair styling and smeared make up) as Blondie's Heart of Glass boomed across the venue. Watanabe reinterprets his delightfully deconstructed style each season — sticking to his signatures while presenting his fans with something new and sartorially exhilarating. There was a rebellious force behind his autumn offering, which featured sharp tailoring, corset dresses and mini skirts in lusty red leather and leopard and zebra skin, grungey toned tweed, reinterpreted and twisted, with exaggerated architectural volumes, bondagey buckles, harnesses and zips. Watanabe's official theme was 'sexy', and this was a seductive them rooted in power, lust and rebellion.

Best in show: As usual, Watanabe's tailoring was spot on. A blazer was formed from deconstructed panels of leather and tweed, and cinched at the waist with buckles. A series of leather skirts appeared to be architecturally in-built with architectural accessories, part skirt, part luggage.

Finishing touches: There was something bourgeois about the quilted clutch bags that Watanabe proposed, their padded contours subverted when they were tessellated across the body, worn hands free from harnesses, in a militaristic manner.