Margaret Howell A/W 2020 London Fashion Week Women's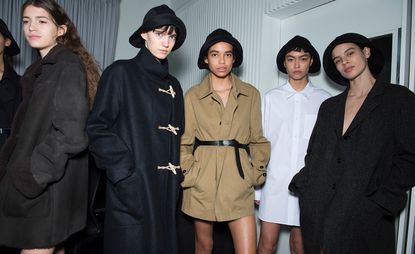 (Image credit: Jason Lloyd-Evans)
Mood board: Today's frenetic catwalk line up at global fashion weeks, with designers regularly disappearing from show schedules and brands booming in and out of popularity, makes the half century success of a label more powerful than ever. When Margaret Howell launched her brand fifty years ago, it began as a shirting business, before becoming a global go-to for impeccably crafted, utilitarian clothing. For A/W 2020 she celebrated her brand's anniversary milestone in typically laid back style, showcasing a collection of signature men's and women's favourites, from practical waxed jackets to drop waist dresses, oversized pinstripe tailoring to schoolgirl kilts.

Best in show: Howell's design aesthetic is as relevant today as it was fifty years ago. She delivers timeless wardrobe pieces, from suiting to knitwear that will stand the test of time (and trends). The show's opening looks emphasised this longevity, with single items styled on bare legged and booted female models, including an oversized white shirt, a duffle coat and a belted workman's jacket.

Finishing touches: Howell is notably absent at the end of a fashion show, failing to take a bow at the end of her catwalk. Her decision to avoid the show space starlight is emblematic of her brand, which is renowned for its unfussy and subtly enduring appeal. True to form, as the show finished, Howell did not take a turn at the head of the runway. Sometimes the most pared-back milestone celebrations are the most impactful.