Maison Margiela A/W 2019 Paris Fashion Week Women's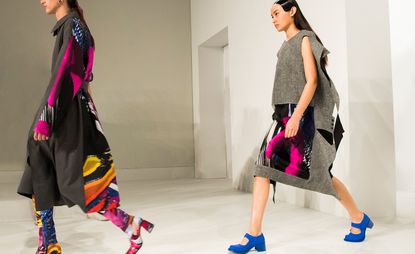 (Image credit: Jason Lloyd-Evans)
Mood board: Instagram feeds, live runway streams, show reports filmed by reviewers on phones... fashion weeks' digital coverage can be dizzying. When John Galliano presented his prismatic S/S 2019 Artisanal collection in January, the designer was preoccupied by the barrage of information that bombards Gen Z, and their difficultly to decipher what's true in today's virtual vortex. His A/W 2019 was an antidote to this 'digital decadence'. A reduced and restrained presentation of garments that drew on the brand's typically deconstructed aesthetic and the spliced and reassembled 'Decortique' approach which Galliano introduced when he joined the house.
The collection featured pieces reduced to their truest form using humble menswear fabrics like herringbone, flannel and cavalry twills – like men's trousers twisted into a bustier dress, a faux leather trench sported as long shorts, tailored trousers flattened into bulbous skirts. There were still elements of excess here – after all we'll never truly dial down all that digital colour. The men's looks were the most notably flamboyant (genderless design was a preoccupation of Galliano's S/S 2019 ready-to-wear offering). Skinny jacquard trousers had colourful flamingo patterns, and wadded coats nodded to the brand's squidgy Glam Slam bag.
Best in show: Paris has a penchant for the power shoulder, see Saint Laurent and Lemaire for more maxi shapes. At Maison Margiela, boxy jackets and double-breasted coats had oversized curving shoulders and sleeves that resembled thick tubes.
Sound bite: For the show, Galliano released the sixth iteration of his 'The Memory of…' podcast which allows the Gen Z audience he considers each season to hear more about the inspiration behind his collections. 'I wanted to produce that feeling of being unsatiated, if only to inspire myself and the team to a new direction,' he explains. 'The artifice, the excess, the toning down, degenerated to what I'm feeling today… taking things right down to the purest, to the necessary.