Louis Vuitton A/W 2019 Paris Fashion Week Women's
A retro 1980's aesthetic met a digital space-age vision of the future at the Louis Vuitton A/W 2019 show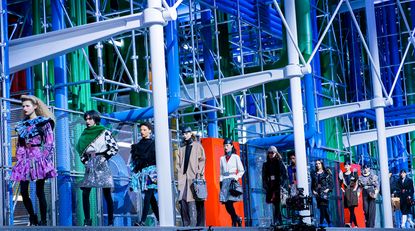 (Image credit: Jason Lloyd-Evans)
Scene setting: The show was set outside the Centre Pompidou… Or was it? For the past few seasons, Nicolas Ghesquière has staged his shows against the unique backdrop of Paris's Musée du Louvre. Tuesday was no exception, and guests entered through the Place du Carrousel as usual, following through to the Place Carrée… Only to find, at a scale of 1/20, an impeccable reproduction of Renzo Piano and Richard Rogers' Pompidou Centre building (which, incidentally, sits not four metro stops away from the Louvre). It was as impressive as it was puzzling, and it set the tone for the surprising collection that closed yet another Paris Fashion Week.
Soundbite: 'It's the beauty of controversy… I am happy to be misunderstood' said Ghesquière after the show. He was referring to the eclectic nature of his collection, which he likened to the actual Centre Pompidou: 'Its aesthetic was very much criticised at the time, but it has become central to Paris, to culture, to young people, to everyone who loves the future. Your eye gets used to something and your tastes evolve and change.' A thoughtful explanation for a collection in which a retro 1980's aesthetic met a digital space-age vision of the future.
Best in show: Ghesquière explained the inspiration behind the collection came from hours of sitting outside the Centre Pompidou, observing real Parisian and their styles: the workers, teenagers, goths, eccentric museum visitors, fashion people. They all made their way into the collection, an unrestrained mix of textures, patterns, prints and colours. The proportions were very much in keeping with the dominant trend of the season (power shoulders, cinched waist, short skirts) but, for the rest, it was an uncompromising collection. Dresses came with frills in unexpected places (in skirts but also on V-collars and shoulders), leopard prints were combined with simple white poplin and damier skirts in vibrant tones, nuisette dresses were paired with wellie-like boots, and magpie-esque sequined pieces had a lace top and creeper shoe counterpoint. It was the kind of collection that needs a re-see to be fully understood, but one thing is certain: Louis Vuitton clients, whatever their aesthetic leanings are, are bound to find exactly the kind of pieces they're looking for.
Receive our daily digest of inspiration, escapism and design stories from around the world direct to your inbox