Comme des Garçons A/W 2019 Paris Fashion Week Women's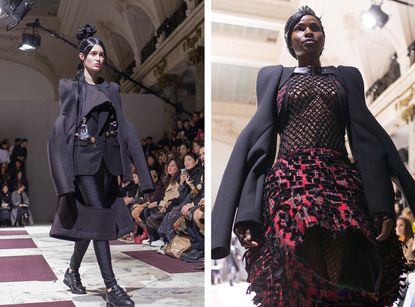 (Image credit: Jason Lloyd-Evans)
Mood board: Our world is over saturated with digital colour. Screens blinking. Images flitting constantly before our eyes. There's an appeal to darkness. It represents a pause, a new beginning, a blanket thrown over a whirl of contemporary colour and information. Since Rei Kawakubo began designing in the early 1980s, her work has placed focus on the power of black. 'Many small shadows come together to make one powerful thing,' she explained in one elusive sentence in her A/W 2019 show notes. Her models appeared like a gang of goths on stage, walking in hyperbolic, structural creations – armour-like leather waders, oversized witchy bonnets and fish net sweaters. Shapes were cocooning, densely ruched and protective.

Finishing touches: Kawakubo also drew from goth and grunge at her Comme des Garçons menswear show last month, when her male models wore encrusted metal tabards, fishnet vests and heavy eyeliner. At the climax of her women's show, Kawakubo's models united into a coven-like circle at the centre of the stage, standing together with joined hands and looking up to the illuminated ceiling. It was a powerful, unifying image. A new stability formed from darkness.

Best in show: There was a subversive element behind a pretty knee-length silk dress embellished with ruffled fronds. Leather jackets with rounded, armour-resembling shoulders were infinitely wearable.