Alexander McQueen A/W 2019 Paris Fashion Week Women's
Models were clad in menswear-inspired grey suits, their fitted jackets complete with draped sashes of raw-edge fabric at Alexander McQueen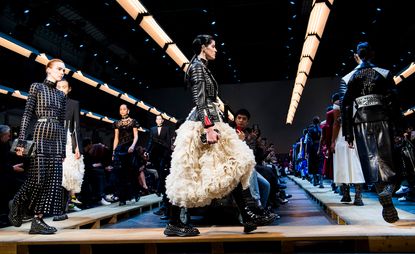 (Image credit: Jason Lloyd-Evans)
Soundbite: 'I went home for this collection, back to where I grew up in the North of England, surrounded by mill towns and wild countryside. I took my team to those mills, to a landscape that I remember from my childhood. The heart of the collection is inspired by the bolts we saw woven both by man and machine.' This time around, Sarah Burton inserted more of herself into an Alexander McQueen collection than she ever has before. She travelled with her team to Macclesfield, one of the industrial towns outside of Manchester where mills still produce textiles for men's suits. It was on rolls of those very textiles (used in her collection too) that guests were invited to sit on at the Lycée Carnot, immediately setting a mood that combined with all things Northern, from the woollen fabrics to the local Rose Queen festival traditions, the Brontë sisters, the punk aesthetics and the heyday of Factory Records. The collection was a brilliant summary of all this.
Best in show: Models walked the catwalk to an orchestral version of Joy Division's She's Lost Control, clad in menswear-inspired grey suits, their fitted jackets complete with draped sashes of raw-edge fabric. Those were combined with the kind of clean-cut trousers McQueen himself was always known for. But Burton's own personality shone mostly through the dresses, some of them in white poplin (an homage to Northern suffragettes?), some asymmetrically pleated and featuring rose motifs in coral, fuchsia and royal blue, some in laser-cut leather. Using enormous amounts of fabric draped over itself, taffeta dresses turned into giant roses themselves, and, of course, the collection also featured couture-like evening gowns, fully embroidered with silvery metal.
Finishing Touches: As usual, accessories played an important part: every goth-at-heart fashion editor at the venue was transfixed by the boots, which came in all sizes and details, a sort of Doc Martens-inspired design that was in turns high or low, flat or heeled, then studded, embroidered or glossed. Brogue-like shoes featured galosh-like details and a rubber sole somewhere between a sneaker and a combat boot. Elsewhere, jewellery heavily borrowed from punk imagery, featuring thick metallic chokers and stacked earrings in crystal-encrusted gold and silver.