Richard Quinn A/W 2019 London Fashion Week Women's
Richard Quinn's floramaniac print returns to close London Fashion Week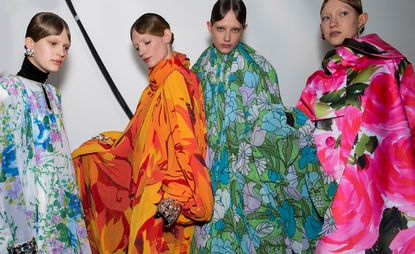 (Image credit: Jason Lloyd-Evans)
Mood board: Richard Quinn's obsession with flowers and couture-esque garments has caused him to become one of London Fashion Week's most anticipated designers. Since launching the brand in 2017, he's offered up an old world elegance, picked up by many others since. Quinn drew on his signature horticultural and voluminous aesthetic for A/W 2019, with a collection that oozed British glamour through grandiose floral gowns, either elongating the silhouettes with long drapery or creating exaggerated volumes with bubble hems and puffball shoulders.

Finishing touches: It would be a mistake to say that Quinn is only a maker of beautiful dresses. His powerful tailored suits bore intense shimmering embroideries and flattered the waist and hips. A particularly fantastic tartan coat opened the show, and elsewhere, flowers bloomed across the body, with headscarves veiling the face. Latex bodysuits layered under dresses had an erotic edge, while headpieces made from swathes of marabou and feathers had a showgirl sophistication.

Scene setting: Models emerged from the darkness into a space filled with thousands of flowers. A live performance by singer Freya Ridings accompanied by a violin concerto filled the room, underneath a magnificent chandelier twinkling in the light. Quinn's designs are the perfect dance floor partner.