Richard Malone A/W 2019 London Fashion Week Women's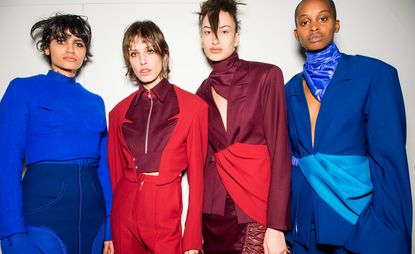 (Image credit: Jason Lloyd-Evans)
Mood board: There was a sense of nostalgia behind's Richard Malone's new collection. His clothes were imagined for a stylish mother taking her kids to school the morning, and even though they had a ladylike attitude to them – like ruched dresses, cinched tailoring and cropped tuxedo jackets – the looks felt modern and fitted for women of every generation. Staying true to his ethical standpoint in a time where these values are more important than ever, the Irish designer took care in limiting waste and using repurposed fabrics such as dog beds turned into furry stoles, workwear twills cut into frock coats and recycled cotton jersey.

Best in show: Texture was at the heart of the collection, apparent in fuzzy coloured coats, cosy knits and hand-painted mohair that gave movement and lightness to the intricately colourful outfits. Skin-tight shiny skirts and dresses with drawstrings were accentuated with oversized jackets featuring large sleeves at the elbows and paired with flared trousers in frayed silk.

Scene scetting: On this early Monday morning, Malone brought us in front of a birthday party scene in a family's living room, where the floor was strewn with balloons, and party food piled high on tables, like iced buns, a chocolate caterpillar cake and crisps. It felt almost uncomfortable, as if intruding into the personal celebrations of strangers.