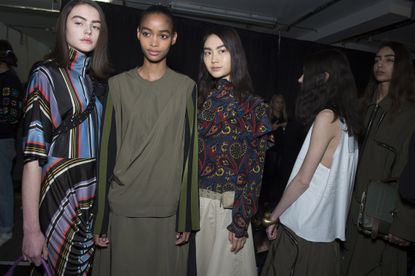 (Image credit: Jason Lloyd-Evans)
Scene setting: A constellation of conceptual artworks pepped up an otherwise stark show space at JW Anderson this season. The pieces, including Martin Belou's unusual Les Hors D'oeuvres (2017) sculptures (spun from plaster and shitaké mushrooms) and an untitled abstract painting by Graham Wilson set the tone for the collection, which was eclectic, upbeat and youthful. On guests' seats sat A3-sized posters, badges and bookmarks that encouraged them to enter a competition titled: Your Picture, Our Future. Entrants would need to submit six original, unpublished images that 'apply to the JW Anderson world' to be in with a chance of shooting the brand's next big campaign. A savvy social media move, if nothing else.

Sound bite: 'We've been going for ten years now, so I wanted to re-group and think about how to broaden the label in a really exciting way. So we're now showing men's and women's clothing on the runway together and that makes sense for me. People are reconfiguring the way they shop, a lot of women I know buy the men's looks and visa-versa. Overall, I wanted to convey a sense of naivety and optimism with this collection, because that appeals to our demographic, which is younger than Loewe's.' – Jonathan Anderson.

Finishing touches: It would be rude not to mention the large enamel doughnut key fobs, which hung from the belt loops of low-slung jeans, tapered khaki trousers and a new take on the label's signature 'pierce' bag, which came in the form of a satchel. Backstage, Anderson referred to the accessory as a 'touch of comedy, something naive and cartoon-like.' Homer Simpson would surely approve.