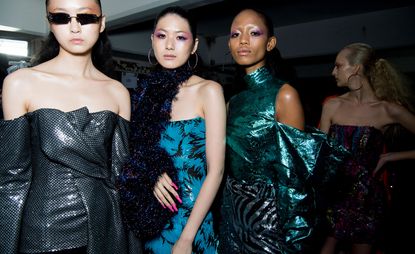 (Image credit: Jason Lloyd-Evans)
Scene setting: Halpern tapped British set designer Shona Heath to transform a derelict house in Soho into an avant-garde show space, replete with floral arrangements and wrought iron furniture wrapped in hot pink cellophane. Graffiti tags and ripped posters littered the walls, floors and windows, while 1980s-inspired neon spotlights were projected onto the designer's signature sequin looks as models descended the crumbling stairwells. A disco dystopia that was nothing short of fierce.

Sound bite: 'There is a real feeling of intensity in this collection, that was on purpose. I suppose it's a reaction to the time we're living in right now. I feel like a broken record saying this, but my clothes are pure escapism – a cross between costume and fantasy. You could say its resistance dressing, not having to adhere to fashion codes. After all, what could be more daring than wearing sequins in broad daylight?' – Michael Halpern
Best in show: Halpern broadened his design horizons this season, experimenting with freer, more voluminous silhouettes. A blue metallic bubble dress, sequin palazzo trousers and lurex tops with gigantic sleeve-cum-scarf adornments looked especially fresh alongside his outré stalwarts – the plunging jumpsuits and structured micro-dresses that we all know and love.