Marco De Vincenzo A/W 2017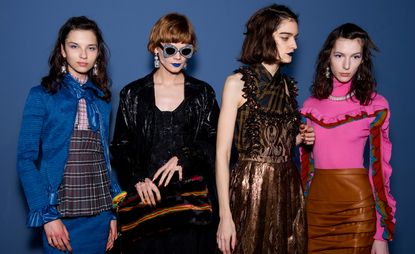 (Image credit: Jason Lloyd-Evans)
Mood board: Marco de Vincenzo has always been a renegade in Milan's style revolt. Although he belongs to the Italian establishment – in so much that he obeys the codes of classic Milanese chic – he's always loved to bend the rules into the realm of fantasy. This season was no different. Emerging like a macaroon-coloured dream, models donned a wild fusion of pattern, stripes and plaid on demure, ladylike shapes, countered by tinted hair and bright sparkling blue lips.

Best in show: De Vincenzo is a whiz with fur and for A/W 2017 he striped his white mink coats with reams of pink candycane patterns, or trimmed them in shimmying black tinsel. But better than these furry tricks was the magic he made of leopard print. Done in leather and fur – or even better yet, appliqued bits on a beige bomber jacket and cullotes that looked like fluttering animal spots – these looks were packed with the de Vincenzo's technical wizardry.

Finishing touches: The collection's feel was very much that of lounging at home in luxe PJs. The extras may have easily included bedroom slippers, but they were high heeled, leopard printed mules sprouting feathers. Because de Vincenzo loves a mash-up, there were also glitter ball booties and Swarovski crystal cat eye sunglasses that reflected light up into the rafters.