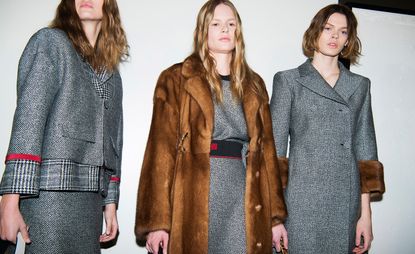 (Image credit: Jason Lloyd-Evans)
Scene setting: Standing for 'fun fur', Karl Lagerfeld's double 'F' Fendi logo was the focal point of the house's A/W 2017 runway set, with a long wooden catwalk imagined in dark and white timber, bearing the emblem in its signature geometric mosaic form. Wood details were also featured on the walls of the space, imagined in dark and light stripes the same colour as the catwalk.

Mood board: There were fewer kaleidoscopic furs and cartoonish accessories this season, with Lagerfeld placing focus on refined tweed, Prince of Wales check and autumnal fur with sycamore leaf shaped details. Sex appeal came in claret leather thigh-high boots, paired with geometric print silk dresses and sporty wool mini dresses with macramé-like cut outs. An après-ski look of the most luxurious featured a plunging neckline swimming costume, layered underneath a sheer chiffon dress with an alpine knit collar and burgundy velvet boots.

Finishing touches: Fendi's 'F' logo came into focus, both in the form of its 1965 design, and a new diagonal figuration, enclosed in a metal circle. This spherical hardware featured on colourful velvet bags, as oversized hoop earrings, and on the buckle of waist belts, inside leather detail daisies. At the head of the runway, the Latin numerals MCMXXV spelled out '1925', the year of Fendi's birth, the date featuring on the waistband and cuffs of intarsia detail dresses, as well as 'X' belt loops on leather coats.