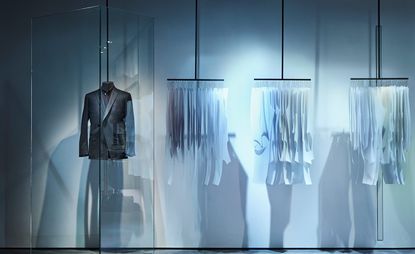 (Image credit: Jason Lloyd-Evans)
Stage setting: A tailor's pattern is surely his blueprint for success, and in recognition of his craft's humble backbone Kilgour freelance creative director Carlo Brandelli showcased an installation fitting titled 'All the Work' alongside his latest A/W 2016 collection. The dynamic in-store installation, which features hundreds of hand-cut, translucent drafting patterns, provided a physical representation of each and every piece in the collection.

Style bite: 'I've been thinking about and working with the craft elements of Savile Row for a long time now,' explained Brandelli. 'I've worked with the thread and this idea of layers and I've presented the pattern piece conceptually within the design of the space,' referencing the brand's Savile Row store. 'But when I started to think about the collection I thought, what would be the literal presentation of that idea of the paper pattern? Of course it's the paper pattern alongside the final collection.'

Best in show: While the collection's foundations may have been laid out on paper, the workmanship of each garment was another illusion of reveal and conceal. It's easy to say that no one on Savile Row has done as much to innovate the collar as Brandelli has over the past two years and this season he almost did away with it entirely. 'This is an inverted representation of the collar,' he explains of his new reversed dinner jacket that builds upon last season's shawl collar. The designer took a similarly measured approach to his latest pocket treatment – a hybrid between a besom and flap pocket that he says took some serious engineering to perfect. Another gentleman's classic offered a Brandelli tweak was winter's silk turtleneck, which sits to the perfect height negating the need for a potentially messy fold. 'I call it the high collar roll, rather than the roll collar,' he says with a smile. 'Very high so it's clean on the neck.' Brandelli is, after all, a man concerned with distilling his craft to its purist core whenever possible.
INFORMATION
Photography: Jason Lloyd-Evans