Wandler and artist Julio Rondo's prismatic partnership
The Amsterdam-based accessories brand has collaborated with the German artist for its kaleidoscopic S/S 2021 collection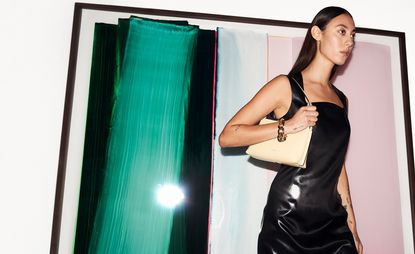 (Image credit: Meinke Klein)
When Elza Wandler chooses the colours for her delectable shoes and bags, she doesn't select from prescribed tonal options, but transforms shades from a huge Pantone colour book into calfskin creations. Tonal tenacity is of the upmost design importance to the Dutch designer - whose eponymous accessories label turns three this winter. She charmingly describes a creamy grey in her upcoming S/S 2021 collection as 'the colour of a dolphin'.

It's a golden opportunity then, that spring sees a collaboration with Julio Rondo, the Germany-based artist renowned for inverting mediums of presentation, painting behind glass with prismatic layers of acrylic and spray paint. 'I pushed him for the last two and a half years,' Wandler laughs of her persistence to form a partnership.

There's a striking serendipity between Rondo and Wandler's output. The designer is renowned for her discerning selection of colour – just look to the success of her brand's pistachio green 'Isa' sandal, and her bold use of colour blocking. 'Everything he does is about layering and light,' Wandler explains. For S/S 2021, the designer selected three specific artworks as inspiration: Brilliant Trees, You know when you get there, and Precious precious long version. References to their textured tones pepper the collection, which features a host of new styles including the 'Nana' kitten heel – a stud-detail mule and a knockout for Nineties obsessives and the 'Carly' shoulder bag, a mini style updated with a chunky chain strap.

Rondo's focus on layering is reflected in accessories that have subtly multi tonal elements, like colour blocked shades of ivory or puffed leather with contrast stitching. It's also noted in the design of the 'Amber', a voluminous evolution of the brand's signature Hortensia shape, formed from folds of leather, inspired by a fortune cookie.
'Little Wheels' (2020), by Julio Rondo
In light of Covid-19 restrictions, Wandler chose not to present its S/S 2021 collection during Paris Fashion Week, instead creating a lookbook that also celebrated Rondo's artistic canon. Here, models are not only shot next to his kaleidoscopic artworks, but the lookbook's images are layered as surrealistic collages in post production, in a nod to Rondo's textural persuasion. Also showcasing Rondo's artworks IRL, the artist has created 100 miniature limited editions, allowing Wandler obsessives to hang the brand's S/S 2021 inspiration in their own home.

'When it comes to colour, sometimes I can just sense something is going to work,' Wandler says of the instinctual elements behind her design process. Her collaborative persuasion is also one passing with flying colours.
INFORMATION
wandler.com (opens in new tab)