Asics and Kiko Kostadinov unveil Gel-Quantum Levitrack trainer
London fashion designer Kiko Kostadinov on the new Gel-Quantum Levitrack trainer created with Asics, a style two years in the making and with a sculputral new Scutoid Gel sole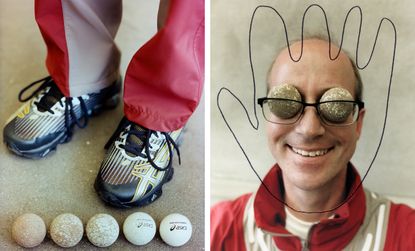 (Image credit: Frank Lebon)
Somewhere in the Asics and Kiko Kostadinov universe, a smiling sports team are engaging in an energetic game of fives, batting a lightweight ball off brutalist walls with their hands, clad in colourful retro-futuristic jumpsuits and a prismatic Gel-Quantum Levitrack trainer.
The sculptural style, available in bold tricolour shades and boasting a new liquid-like Scutoid Gel sole, is the latest design to emerge from the collaboration between the Japanese sportswear behemoth and the avant-garde London fashion label. The two began working together in 2017, when Kostadinov released the Gel-Burz 1, a hybrid design consisting of a mash-up of different Asics trainer soles and uppers, in tones reflecting his own burgeoning brand.
After three years of collaboration and ten footwear models, Asics and Kostadinov announced in October 2020 that their relationship had evolved into a dynamic new partnership, a multi-year initiative, creating new styles and the Asics SportStyle umbrella. The first offering, the UB1-S Gel-Kayano 14, was a modified take on a running shoe, with updated colours and elongated elements.
Now the Gel-Quantum Levitrack trainer – a silhouette two years in the making – is going on sale at Dover Street Market in Tokyo's Ginza. We speak to Kiko Kostadinov about his label's continued creative evolution with Asics.
Asics Gel Quantum Levitrack: a sculptural silhouette for a game of fives
Wallpaper*: Your collaboration with Asics and its Institute of Sports Science team (ISS) is ongoing, and spans innovation, the reinterpretation of archival silhouettes, and a celebration of Asics' signature motifs. Why, as a brand, do you feel you have such an affinity for Asics, and how has your relationship developed over time?

Kiko Kostadinov: In the past five years we achieved incredible results working with Asics. From creating seasonal silhouettes, to our own sole design, introducing womenswear involvement and very forward-thinking imagery. The brand has been really open and trusting with our directions. Asics always felt sincere and very focused on performance, respecting customers rather than trying to trick them into buying products – key factors that we all respect.
W*: Your newest release, the Gel-Quantum Levitrack, is two years in the making. Why so long? Were there any technical challenges regarding the shoes' Scutoid Gel sole?
KK: We were fortunate enough to be in Japan during the concept drawing stage for the tooling. Asics' SportStyle team explained in detail their idea behind the Scutoid shaping and the full functionality. Two years is actually a very quick period to develop brand-new idea for a footwear sole. We kept very close contact with the design team in Japan and shared our feedback on specific details of the sole. Working on the upper its much easier and quicker. On the new colours, it feels like such an amazing experience working with Asics SportStyle. We are always amazed by the freedom and the execution the team can achieve in such a short time frame.
W*: An earlier SportStyle release, the FB1-S Gel-Preleus, was led in terms of development by womenswear creative directors Laura and Deanna Fanning. What was the experience of the whole Kiko Kostadinov studio working to develop this style?
KK:The studio team worked together from initial ideas to finalising samples. The development of the project spanned throughout the pandemic, so while we were working on this independently, we would frequently come together over FaceTime and calls to gather our thoughts and feed back to each other. Initially we thought it could be better for one of us to focus on one colourway or one materialisation and work through eliminating or adding what we thought was best from each other's design. Ultimately we found the best result happened when we were able to come together and review the shoes in person as a team. We thought this was particularly apparent in the execution of the upper, with its nuance of layered meshes.
W*: How do you and the Asics ISS team work together in terms of collaboration, and how have you adapted in the wake of travel restrictions?
KK: The conversation about the Gel-Quantum Levitrack began early on. Back in 2019 we visited the Asics HQ in Kobe, Japan, and were shown through a lot of new developments. We were really taken with the initial developments of the Scutoid tooling and very much drawn to how comfortable and easy to wear this was. In light of viewing this as a sneaker that could be worn as a casual answer to celebrating sports and the Olympics, we saw this as an exciting moment to incorporate the new developments of the ISS into a special release particular to Asics SportsStyle.
Originally we had planned another visit to Kobe to work on this style with the Asics team, but travel restrictions led us to take all of our meetings online. We were given frequent updates on all of the plans of the tooling and any new developments, shared through 3D sketches, photos, videos, tooling samples and materials; and we fed back our thoughts regularly with the team in Kobe.
W*: For the accompanying Gel-Quantum Levitrack trainer editorial campaign, why did you choose to work with photographer Frank Lebon; what inspired the focus on Fives as a game?
KK: Working with Frank is always so special and free. We have deep respect for talent that can bring a clear, creative point of view and is always passionate about the final outcome. We also worked with Frank on the menswear GEL-Sokat running campaign, which was super well-received. After a brief conversation, he came forward with the concept of fives, not just in terms of a fashion image but also as a community that he actively participates in. The campaign was shot in west London with a professional cast of players. We all had the chance to learn and have a laugh during the day.
W*: To you, what are some of the most iconic design elements of an Asics trainer?
KK: Asics SportStyle trainers are first and foremost related to comfort. Asics celebrates its unique sports material pairings, pushes colourations and gel innovation in its toolings. Graphically for us, working within SportStyle means we can push how we present the iconic Asics stripes.
INFORMATION
asics.com (opens in new tab)