Between art and fashion, Irish designer Richard Malone is forging a new path
Having curated an exhibition on Eileen Gray, launched a prize for Irish artists and undertaken a residency Dublin's National Gallery of Ireland, fashion designer Richard Malone has recently embedded himself in the art world – though, he insists, the disciplines will always inspire each other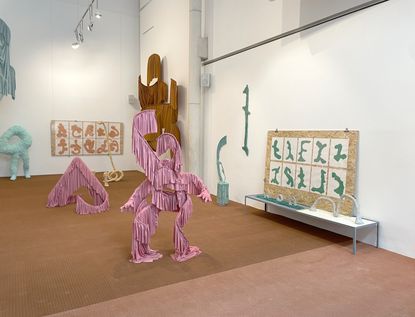 (Image credit: TBC)
'Some witchy Irish behaviour has put these new opportunities in front of me,' says straight-talking designer Richard Malone, who this summer has temporarily eschewed the world of fashion for a two-month residency at Dublin's National Gallery of Ireland (the resulting exhibition, 'Knot, Bind, Gesture, Bend', is a response to the museum's 'Giacometti: From Life' summer show, and the Swiss artist's work more broadly).
The prior summer, he curated travelling group show 'Making and Momentum: In Conversation with Eileen Gray', which initially showed at the designer and architect's seminal – and recently refurbished – modernist creation, the E-1027 Villa on France's Cote d'Azur; this month, due to the money the exhibition raised, an associated artist prize (Making and Momentum Young Artist Prizes) has awarded eight Irish creatives funds to pursue experimental practices 'free of responsibility' (Malone notes that the list is primarily made up of queer and women artists, something he is 'not sure that would have happened in Ireland even ten or 15 years ago').
'It often feels like anything representing artistic freedom is never celebrated, and one is chastised for taking their own path,' Malone says. 'So these prizes become more and more vital, as more and more people from my own background will turn away from education due to the cost. The whole purpose of the show is to celebrate a variety of generations of artists, not subscribe to the idea of young or established artists, defined ways or categories of making.'
Of that background, Malone – who rose to prominence showing as part of London-based fashion incubator Fashion East, having studied at Central Saint Martins – describes himself as 'queer, working class and rural Irish', facets of identity which he has explored across his career so far. He grew up in Wexford on Ireland's south-east coastline, and a sense of 'Irishness' has felt particularly intrinsic to the designer's work; his collections have often begun with scattered memories from his own upbringing (women shopping at the town's market stalls, childhood parties at community centres, the reminiscences of his beloved late grandmother Nellie). Poignantly, 'Making and Momentum: In Conversation with Eileen Gray' made its third and final stop in Wexford's county council building, the hometown of both Malone and Gray.
'Gray identified consistently as Irish, even through living most of her life in Paris, and studying in London,' Malone explains. 'She was also a queer women, working against the grain and refusing to adhere to any societal norms or rules, in her life and in her practice. But she was also wealthy from a family of enormous wealth and privilege, residing in rural Ireland, which has its own connotations in the context of a developing and colonised country that, whilst she was working, was on the cusp of a long, and enduring, civil war.'
'For me, all of these conversations needed to be facilitated in the show. But the main objective was to show work that is equally radical, self-defined and also deeply connected to Irishness. In this sense, Irishness is the pre-colonial, where language has room for a multitude of meanings and possibilities, even the mythic.'
Such considerations informed the selections for the group exhibition itself, which changed at each location, as well as the final eight winners of the accompanying art prize (the latter Malone sees as the true legacy of the project, and hopes the funds distributed will have lasting impact). 'Some have a gorgeous respect for tradition, and others have turned practices on their head,' he says of how the selection was made. 'I am always attracted to work that sits between disciplines and doesn't follow a status quo.' As such, the various Irish creatives – based both in Ireland or working abroad – span painting, sculpture, leatherwork and performance art.
'It feels important to show the gravity of contemporary Irish work; it's still world-leading and radical and self-defining, and long may that continue. There has been huge political change in the last 20 years, with divorce, gay marriage and repealing the 8th Amendment being at the fore of global politics. There's a really interesting and transient energy… we're still looking back at what's been eliminated and silenced.'
RELATED STORY
This summer, Malone has found himself in Dublin, moving back to his home country temporarily to undertake the Giacometti Artist in Residence at the National Gallery of Ireland. It has meant pursuing his own artistic practice, though he is keen to insist that he is not moving away from fashion for good; instead, he notes that he's 'always worked in sculpture and performance, and textile works such as wall hangings, embroideries and weaving' (Malone has previously shown twice at MoMa, and undertaken an exhibition at London's Now Gallery that traversed fashion and sculpture). Such elements are part of Malone's 'Knot, Bind, Gesture, Bend', the residency's culminating exhibition, which features sculptures – in part reminiscent of Giacometti figures – draped with jersey fabric, moments of traditional embroidery, hand-woven hangings.
'I really focused on processes that are common to me – stitch, the body, drape, cut, form, weave. [I wanted to explore] the limitations of language in our understanding of both objects and human interactions, studying semantics and mimesis and looking into archival information on the Irish language and place.' Of the exhibition's relationship with Giacometti, Malone notes: '[He] was really there as a starting point, and I had some incredible conversations with the team that brought me in. I could understand my place there – this really intense focus on one technique over and over again.'
Malone will not show as part of London Fashion Week this September (2022); instead, he is focusing on taking 'Knot, Bind, Gesture, Bend' to Ormston House in Limerick City (as with much of his work, it will be an evolution of the previous edition). That said, he is looking back to getting back into the fashion studio, 'experimenting and playing with some new ideas'.
For now, he is enjoying forging his own path, between art and fashion, and away from London. 'It isn't a path that many other artists or designers have [trodden] so that can feel overwhelming, but sometimes that discomfort is important,' he says. 'Collections have always been a part of what I do, but they are only a part of it. Some of my favourite clothes I've made have never been seen.
'The most stressful thing in the world to me is working in formulas, doing one thing or making millions of one product frightens me, it's no way to spend a life. I need both more conversation, space and alone time all at once, to make work that I believe in.'
INFORMATION
Jack Moss is the Fashion Features Editor at Wallpaper*. Having previously held roles at 10, 10 Men and AnOther magazines, he joined the team in 2022. His work has a particular focus on the moments where fashion and style intersect with other creative disciplines – among them art and design – as well as championing a new generation of international talent and profiling the industry's leading figures and brands.