Apocalyptic future: Bernhard Willhelm takes us to the year 3000 with his A/W 2015 collection on show at LA's MOCA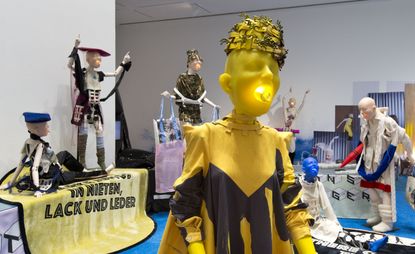 (Image credit: Brian Forrest)
Last year, Tom Ford's announcement that he would stage his runway show for A/W 2015 in Los Angeles lent additional credibility to the city's exploding fashion scene that already houses Saint Laurent's design team. But such an unveiling appears too tame for recent LA émigré, Bernhard Willhelm, the outlandish designer who sidestepped the catwalk in 2014 with a look book that featured defiantly ageing models sporting attire that was all about the cut-out.

Willhelm's A/W 2015 collection takes the form of an art installation at The Museum of Contemporary Art (MOCA), which incorporates a profusity of images of the porn star Cutler X amidst more heady philosophical ideas. The designer has toyed with similar mash-ups before - indeed 'Occupy Wall Street', his S/S 2012 collection permitted wearers to flaunt their breasts and their politics.
Willhelm is 'one of the most provocative and anarchistic' individuals in fashion today, says MOCA's Emma Reeves, as she explains the institution's unusual invitation to the designer and his long-time collaborator Jutta Kraus to introduce a collection in the white box. The resulting 'Bernhard Willhelm 3000: When Fashion Shows The Danger Then Fashion is The Danger' is nothing if it's not anarchistic. A sprawling, multi-faceted exhibition, it overtakes both floors of MOCA's Pacific Design Center outpost. Photography, sculpture, text, video, poster montage, ephemera, and, of course, fashion, are engaged to explore a rejection of American uniformity and consumerism, a return to individualistic expression, and a vision for a circa-year 3000 future singed by global warming.
Conceived by Willhelm and Kraus as a singular piece, visitors are more likely to encounter it as seven individual installations that enmesh. In the tightly-programmed upper gallery, viewers are greeted by text-based panels that impart historic notions of beauty. A poster montage delves into creativity and images of Willhelm and Cutler X mimick the evolution of man. A complex tableau configured at the room's centre is the focal point of the show itself.

Waist-high tables, shaped like America's Pentagon are topped with hundreds of coyly-named, sexual double-entendre Kevin Murphy skincare products ('Rough Rider', for instance) that march across the tables like toy soldiers. The configuration encircles eleven mannequins who frolic amidst a global warming future clad in the A/W collection. Lettering on bright floor rugs, functioning like captions, disclose the universal apocalypse.
The collection itself is derived from the overall or the 'onesie' - as Willhelm playfully dubs the workhorse garment. Re-imagined, they don't appear as trousers but morph into short dresses, bibs with pleated skirts for men or women, and then disappear entirely in an alluded-to form as long smock dresses enlivened by digitally-printed oil paintings. It's the garment's straps, in various configurations, that run throughout. Latticed collars, pockets, and bibs appear prominently, as do single bands of ultra-wide zippers with oversized pacifiers attached to their sliders. They entwine khaki-patterned bondage jackets at the torso, or open at the elbow of loose sarape shirts ripe for wrapping and un-wrapping.
Though it originated as a drab staple, the overall, as Kraus notes, is deliciously sexy. Straps buckled to languid shapes simply beg to be released. 'You have to take them off,' she observes and encourages. 'Bernhard Willhelm 3000: When Fashion Shows The Danger Then Fashion is The Danger' might entertain pressing issues such as the fall of man, culturally, thanks to the smothering uniformity of brands, and literally through the chill of climate change. But its point of view originates in a designer who insouciantly brought bunches of bananas to the runway; outrageous, fun, and full of sex. Butt cheeks emblazon a soft fabric tote bag, S&M accoutrements inspire garments and naughty accessories, and erotic photographs of men bereft of pants populate the installation throughout.
Reproductions of the Henzel Studio floor rugs, bearing text such as 'Red Hot Modernismo', will be available through Frozen Palms and spanking paddles are to be offered through MOCA's gift store.
ADDRESS
MOCA Pacific Design Center
8687 Melrose Avenue
West Hollywood, CA 90069
Receive our daily digest of inspiration, escapism and design stories from around the world direct to your inbox