Akris' Albert Kriemler mines the work of architect Sou Fujimoto for S/S 2016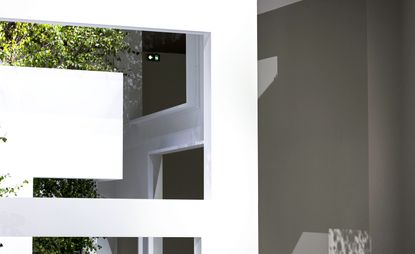 (Image credit: press)
Albert Kriemler (opens in new tab) is fashion's most architecture-obsessed designer. Nearly all of his shows for Swiss brand Akris glow with an architectural elan and many of his collections owe their inspiration to architects themselves.

Such was the case at Akris' recent S/S 2016 Paris show when Kriemler not just channelled, but actually collaborated with Japanese architect Sou Fujimoto (opens in new tab). Fujimoto's most famous works – from the Serpentine Pavilion to his House N and Naoshima Pavilion – were all plastered on Kriemler's mood board backstage. Many of these ideas made their way onto actual fabric development and were even recreated in the life-sized show set modeled after House N.

Wallpaper*: Sou, how did you connect with Albert?
Sou Fujimoto: We met through a mutual friend, the photographer Iwan Baan. Then we just had a casual talk really about my architecture concept. He came to Japan to visit some of my projects. So then gradually he tried to reinterpret my architectural thinking into his fashion thinking.

Albert, how did you do that?
Albert Kriemler: What's so great about Sou's architecture is that you don't only look at great, unexpected architecture but that you actually feel it. When I visited the Naoshima Pavilion, I'll never forget that moment. It looked to me like a diamond, like a jewel so that inspired the collection. Fujimoto's forest of music – the competition he won for the Budapest Music Hall – inspired a neck cut seam, but also a broderie anglaise. And two more houses, the finale dresses, I took from his own description – he said, "It's funny the houses are silver covered and they had mirrored the nature and things." So I wanted the dresses to mirror that effect.

Sou, is this the first time you've jumped into fashion?
Sou Fujimoto: I designed a shop for Sacai a few years ago. But never a real fashion collaboration. Never. It is quite exciting because I am not a good fashion guy.

What are you wearing today?
Sou Fujimoto: Issey Miyake.

That makes you a fashion guy!
Sou Fujimoto: Well….[laughs]. Finally, through the conversations with Albert, I realised the strong similarity between fashion and architecture. They both create something between the human body and the world. Transparency, translucence or opaqueness – previously, I was only thinking of these themes on an architectural scale. So this opened the door to another realm.

Tell us about the show set?
Sou Fujimoto: The motif is a House N, one of my private houses. He wanted to use this house, so I sent the drawings and he rearranged it to fit the show space. I finally saw it today finished with the trees and it's so nice.
Albert Kriemler: I am most excited about how it stands here. Everyone who came to our show tonight walked through the house and that was really important for me.

Sou, it would appear that Albert knows a heck of a lot about architecture...
Sou Fujimoto: He is quite good at seeing architecture. I gave him my book and he read all of the text. And it's a big book. Now, he knows more about my architecture than I do!