Seeking style sanctuary with Marios Schwab's On The Island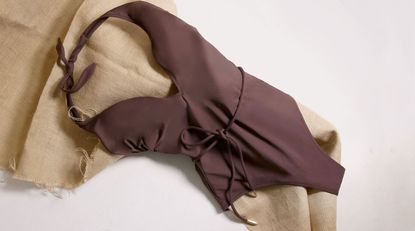 (Image credit: Aylin Bayhan)
Flick through the pages of the delicately handmade brand book for resort wear label On The Island, and its grainy pages feature cut-and-pasted images which allude to the isolated sanctuary of a white beached archipelago or an islet surrounded by tropical palm fronds and the sparkling sea. The thick card pages bear the front cover of Judith Schalansky's 'Pocket Atlas of Remote Islands' (2012), a 1970s Peter Beard photograph of model Naomi Sims lounging bikini-clad on a crocodile, celestial images of the zodiac constellations, and the coordinates of a secret island.

'It's an intimate location, divulged to only our closest friends and family,' says Marios Schwab, the Greek-Austrian designer renowned for his 2005-founded eponymous ready-to-wear label, who launched On The Island for S/S 2017. 'It's a secret place, with no name attached and only we know the location.'

Schwab's London-based brand was renowned for its body conscious design aesthetic, a skill Schwab — who is the son of a leading swimwear brand director — applies to his elegant beach-focused label. On The Island places focus on chic swimwear staples like halterneck swimming costumes or ruffle-trim bikinis and their accompanying breezy cover ups, including double-belt shirt dresses and transparent leopard print pyjamas. 'Its spirit speaks of luxuriously crafted rawness,' Schwab says. 'Unravelled edges, a torn letter, ink smudged by the sea… natural textures sit with technical performance fabrics, designed to celebrate and enhance the body's sensuality and form.'

On The Island's brand book features a page dedicated to the South Keeling Islands, a remote Australian territory in the Indian Ocean. It references Schwab's decision to name each piece in his brand's collections after a remote location. Take a chocolate swimsuit named after Hawaiki, or a zebra print robe, dedicated to Balos. 'Each season our compass takes us to another place which inspires us, and coordinates the spirit of the collection,' Schwab says. Be it Ogygia or Asterias, Calypso or Los Roques, we can't wait to drop anchor and explore.
INFORMATION
For more information, visit the Marios Schwab website (opens in new tab)