What we learned from Canada Goose's talk about the future of sustainable design
Running alongside 'Keeping the Planet Cold', an exhibition from Canada Goose in association with Central Saint Martins, the talk gathered a panel of experts from various fields to discuss the future of sustainable design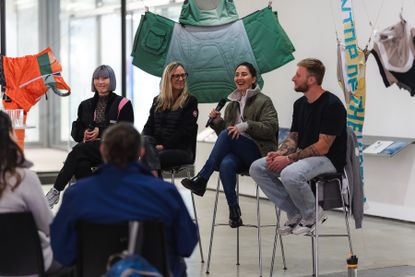 (Image credit: Courtesy of Canada Goose)
In partnership with Canada Goose (opens in new tab)
On Saturday 17 February 2023, as part of London Fashion Week, Canada Goose hosted a talk at Central Saint Martins' Lethaby Gallery on the future of sustainable design. The talk, chaired by Wallpaper* fashion features editor Jack Moss, was backdropped by 'Keeping the Planet Cold', an immersive exhibition from Canada Goose in association with Central Saint Martins.
Opening over the weekend to the public, it showcased the work of BA and MA fashion students who worked on a project with Canada Goose as part of their studies in 2022. BA students were tasked with creating design objects utilising Canada Goose deadstock and warranty products, while those on the MA were asked to create capsule collections inspired by outfits worn by research scientists at Polar Bears International (PBI).
Canada Goose on the future of sustainable design
The result was an immersive exhibition that celebrates a selection of exceptional work from the students, championing a new generation of changemakers and telling 'a story of how we can shape the world through creative action', as the brand describes.
Participants in the panel talk included Chinese-born, London-based menswear designer Feng Chen Wang (a collaboration between Canada Goose, Wang, and Xu Zhen was released last year), Krista Wright, executive director of Polar Bears International, Diana Verde Nieto, co-founder of Positive Luxury, and Jax Davey, founder and CEO of Nuevo.
Each brought a distinct view on the topic – whether Wang, who discussed incorporating sustainability into her collections, Wright, who has seen first-hand the impact of climate inaction, Verde Nieto, who works with some of the world's biggest brands on sustainability certification, or Davey, who founded Nuevo in order to create sustainably-driven content and campaigns for brands including Canada Goose.
The talk began with a discussion on the definition of sustainability, which the panel said was sometimes difficult to pin down – Verde Nieto, for example, reflected the question back on the gathered audience – though agreed that at heart it was about retaining the planet's resources for future generations.
'Sustainability is about a holistic approach to conservation and doing everything with integrity,' Wright noted.
On integrity, the panellists believed attempts to incorporate sustainable practices into fashion and design should be done with authenticity. Davey said that it is important for those working in the field to speak up about their achievements and be confident in their messaging. 'The reality for any brand today, large and small, young or established, is they need to have the confidence to understand and communicate about their sustainability,' he said.
Feng agreed, saying that over the years she has been in business, customers more and more are gravitating towards pieces that have sustainable credentials, or utilise historical craft (she gave the example of a handbag from her eponymous label she was carrying, which is crafted from easily regenerated bamboo).
Wright also discussed the real-time effects of climate change and melting sea ice on the health of polar bear populations. However, the panellists said, we must remain hopeful: Verde Nieto said that growing legislative changes, particularly in the EU, will start to have effects on the way fashion brands produce collections, while Davey said he is seeing strides in the way people produce content (a shift to digital production, for example, will see carbon emissions drop radically on film shoots and sets).
For the average consumer, to prevent themselves from being overwhelmed by the scope of the problem, Verde Nieto suggested a 'diet'-like approach – to try and be good most of the time (purchasing second-hand, getting clothing mended, purchasing from sustainable suppliers or choosing designers and brands who create clothing meant to last for life) and not to punish yourself if occasionally you slip up. 'To stay authentic, it's not about perfection,' added Davey.
Creativity and innovation are both key to making strides in sustainability, which Wright said was gratifying to see in the work of the Central Saint Martins MA students when she was part of the Canada Goose project judging panel last year – noting that their often outside-the-box approach will be key to making progress in future. Verde Nieto added that cross-pollination between brands was crucial; the most important thing was for people to 'talk to each other' and to work collaboratively. Instead of students starting fashion brands solo, she proposed the idea of groups of designers creating a singular brand, cutting down on waste and seeing the power in working collaboratively.
'This type of creativity and passion is really encouraging,' said Wright of the students' work featured in the 'Keeping the Planet Cold' exhibition. 'It's exactly what we need to create a better future.'
canadagoose.com (opens in new tab)
Jack Moss is the Fashion Features Editor at Wallpaper*. Having previously held roles at 10, 10 Men and AnOther magazines, he joined the team in 2022. His work has a particular focus on the moments where fashion and style intersect with other creative disciplines – among them art and design – as well as championing a new generation of international talent and profiling the industry's leading figures and brands.