Ten c combines tone, texture and technicality for S/S 2023
Ten c creative director Alessandro Pungetti marries the brand's signature fabric innovation with evocative hues and textures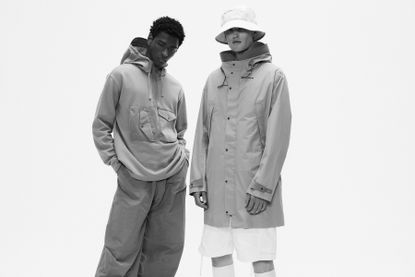 (Image credit: Courtesy of Ten c)
In partnership with Ten c (opens in new tab)
The colours, textures and imperfections of plaster, including the dusty matte patina of old walls and statues, provide the tonal and material references for Ten c's S/S 2023 collection. To a palette of whites and greys, creative director Alessandro Pungetti introduces two bold colours: a greyish-brass that lightens to almost white, and a deep burgundy degrading into pastel tones of chalky mauve and peachy pink. Cracked walls are reimagined in a blurred pixel graphic, while the collection's colour and print is broken up by all-black looks.
Hybrid materials, first introduced to Ten c collections in A/W 2022, are seen once again, with fabric textures crafted in an almost plastic-like finish. For Ten c, hybridisation means introducing new complexities and techniques between materials in the same piece. In the Short Combo Bonded Parka and Fishtail Combo Bonded Parka, for example, piece-dyed rip-stop nylon is bonded with 11oz OJJ fabric (Original Japanese Jersey, a knitted fabric made of polyester micro fibres and nylon yarns, exclusive to the brand). A new, stronger taping system has also been introduced to make items perform better and is used in the Bonded Anorak 3L and Bonded Parka 3L, featuring a three-layer water-resistant cotton/nylon blend.
'Tone and texture': Ten c S/S 2023
Hybridisation is also evident in midlayers, with garment-dyed nylon tactel and 11oz OJJ combined in lighter jackets such as the Bomber and Cape, as well as in trousers and shorts. Once again, OJJ details feature on sweatshirts, and a heavyweight Makò jersey is also seen in T-shirts.
An important addition for the season is silver laminated fabric. Ultra-light nylon fabric with a silver inner foil surface, affected by the outer colour at the time of dying, gives lustre to pieces such as the Wire Combo Field Jacket, Tempest Combo Anorak and Skye Combo Parka.
Midlayers are offered both in block colours and a graphic pixel print, irregular mesh nylon used to create jackets, shorts and a bag. Completing the new fabrics in the collection is the hand-peached cotton – brushed and trimmed for a suede-like appearance, and used to create midlayers, trousers and shorts.
As well as combined with other fabrics, OJJ is used alone in classic Ten c garments. The 9oz-weight fabric is used and piece-dyed to create the Freezer Jacket, Marine Anorak and Rider Parka. As with previous collections, strong military references that revisit British Navy garments can be seen throughout and influence the shape and fit of outerwear, sweatshirts and trousers.
Within the collection, a mini capsule of two down outerwear pieces, both with detachable sleeves transforming them into vests, serves as a preview of the A/W 2023 season. The Hurricane Combo Down Anorak Vest, made from down-filled, piece-dyed nylon crinkle rip-stop and 11oz OJ, is presented in three colourways, and the Austral Jacket, made from down-filled garment-dyed nylon tactel, is offered in four.
For the S/S 2023 campaign, Pungetti collaborated with Australia-based photographer Pierre Toussaint and British stylist Tom Guinness.
tenc.com (opens in new tab)