Presley Gerber on starring in the new campaign for Celine's Eau de Californie
In the new campaign for Celine's Eau de Californie, Presley Gerber assumes the mantle of cinema's rebel heroes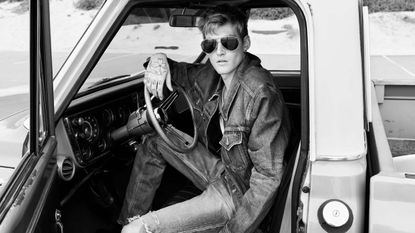 (Image credit: Image courtesy of Celine )
Eau de Californie is an ode to the place creative director Hedi Slimane called home for over a decade.
For Slimane, creating fragrances has always been an exercise in atomising memory and his mark is clear across Celine perfumes. Take Bois Dormant, a blend of bergamot, white orris butter, and vetiver inspired by his days as a 19-year-old spent wandering around London looking for the perfect double-breasted flannel blazer and listening to vinyl records; or Rimbaud, (opens in new tab) a powdery, lavender scent inspired by days spent reading the poet in his early teens.
Eau de Californie is a distillation of Slimane's time living in LA. A potent blend of woody palo santo, creamy white orris, and heady patchouli and tree moss, it is a fresh scent complicated by resinous and smoky notes.
Over the course of his career, Slimane has extensively documented a gritty subculture of California. His black and white images show musicians, skaters, and surfers with peroxide blond hair and tattoos, often lounging on unmade beds or hanging around boardwalks.
It is a cinematic world, but one more in keeping with the brooding, iconoclastic idols of 1950s and 1960s cinema (James Dean, Marlon Brando, Steve McQueen) than the celluloid idealism of today.
The new Eau de Californie campaign, directed by Slimane, is an extension of those earlier images; depicting model Presley Gerber (himself a California native) playing pool, brooding in a pick-up, driving through the desert, looking out into the ocean.
Gerber lithely assumes the mantle of Dean and Brando's rebel hero, even though he found the experience nerve-racking at first. He told us: 'It had been a while since I was in front of the camera. I was nervous, yet excited, but when the images came out, I was blown away with how Hedi captured the day.'
'The experience shooting the campaign was incredible,' Gerber continues. 'Working with Hedi, and learning so much from him. I really appreciate those moments where I get to learn from amazing people.
Asked if the perfume reminds him of home, Geber says, 'Yes absolutely, because it reminds me of everything California, from Joshua Tree to where the mountains meets the sea (which is what the locals say).'
Mary Cleary is the Beauty & Grooming Editor of Wallpaper*. Having been with the brand since 2017, she became an editor in February 2020 with the launch of the brand's new beauty & grooming channel. Her work seeks to offer a new perspective on beauty, focusing on the pioneering personalities, product designs, and transformative trends within the industry.