Mood-boosting functional fragrances to help combat the winter blues
So-called 'functional fragrances' are designed with a sense of wellbeing in mind. Try these mood-boosters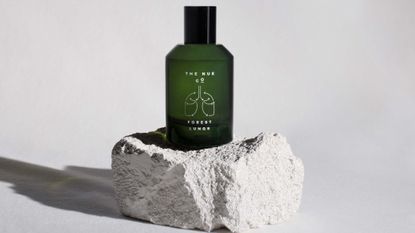 (Image credit: Hannah Rose)
It's long been recognised that scents have the power to influence our emotions. The smell on a loved one's discarded item of clothing, or the whiff of a once-familiar perfume is enough to send anyone reeling back in time and space and leave them with a whiplash of feelings. These 'Proustian moments' – so called because of the French author's fictional portrayal of a madeleine-induced journey into memory – are a result of a direct route from the olfactory bulb (which helps us process smell) to the part of the brain that processes memory and emotion. And in recent years, a number of fragrance brands have worked to manipulate that olfactory-emotional connection to create 'functional fragrances'.
Functional fragrances for calm, focus, sleep and more
Fragrances that fall under this umbrella rely on science to establish which scents can trigger certain neurological pathways and, consequently, make users feel calmer, sleep better, focus more effectively, and so much more.
The Nue Co was the first to popularise the concept with its range of fragrances that uses first-to-market technology to capture the olfactory 'fingerprints' of certain environments and recreate them in a packable form. So, for instance, The Nue Co's best-selling Forest Lungs fragrance replicates phytoncides (the organic compounds produced by trees) to create the sense of calm and wellbeing you might feel in a natural, tree-filled environment. The company's latest fragrance launch, Water Therapy, takes the fingerprint of marine environments to produce similar results.
The Nue Co's scents, especially Forest Lungs and Mind Energy, which is formulated to improve focus, are a good starting point for anyone looking to experiment with functional fragrances.
Also noteworthy is Abel's Pause fragrance, designed to ease the emotional swings that can come with perimenopause and other times of hormonal change. Using clinical research on the link between menopause and fragrance, the brand formulated a scent of violet leaf (to stablise mood), mimosa (to support hormone balance), narcissus (to encourage deep sleep) and Hay (or tranquillity). All the extracts are 100 per cent natural, as it has been found that synthetics can be problematic with the increased sensory sensitivity caused by hormone fluctuations.
Another player on the market is Edeniste, which has six fragrances – Dream, Wellbeing, Seduction, Relax, Energy, and Happiness – designed in conjunction with neuroscientists as part of its Lifeboost range. Each fragrance in the series is designed using ingredients that best evoke a given mood in the olfactory memory.
The field of functional fragrances looks poised to grow. As with any wellness trend, it's ultimately the user who decides if it works for them.
Mary Cleary is the Beauty & Grooming Editor of Wallpaper*. Having been with the brand since 2017, she became an editor in February 2020 with the launch of the brand's new beauty & grooming channel. Her work seeks to offer a new perspective on beauty, focusing on the pioneering personalities, product designs, and transformative trends within the industry.