A rare glimpse into the Bottega Veneta atelier, where extraordinary leatherwork comes to life
Bottega Veneta introduce a new short film by Massimiliano Bomba, which takes viewers inside the Italian house's Veneto atelier – a place where innovation meets traditional craft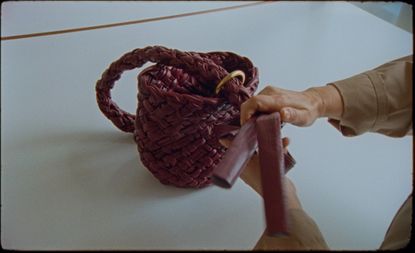 (Image credit: Film still, courtesy of Bottega Veneta)
'Craft is not a trend. Neither is it something that has to be improved. It is a timeless technology. The irregularities of handwork make each Bottega Veneta design unique. This for me is true luxury,' says Matthieu Blazy, current creative director of the Veneto-founded Italian house, whose celebrated collections have honed in on its rich tradition of leatherwork, albeit in imaginative new ways. Most memorably, a pair of trompe l'oeil jeans from his debut A/W 2022 collection, which appeared to be made from classic blue denim but were actually made from leather (an array of other quotidian garments, from a flannel shirt to knitted woollen socks, have been reimagined in leather in subsequent collections).
A new film by director Massimiliano Bomba, released this week, gives viewers an unprecedented look inside Bottega Veneta's Veneto atelier where such feats of leather work begin. Titled 'Craft in Motion', the serene roaming shots capture the interior and exterior of the 19th-century villa in which the artisanal workshop is housed, as well as the various meticulous production processes taking place inside. This includes the house's signature intrecciato, a unique woven leather central to Bottega Veneta's founding in 1966; in the decades since, the technique has served as 'a blank canvas for experimentation in shape, colour, structure and size,' say the house.
Bottega Veneta: 'Craft in Motion'
The short film is narrated by Ruggero Negretto, one of the house's most senior artisans, and largely focuses on the production of three handbags – the Cabat, Kalimero, and Sardine, each one cut, sewn and finished entirely by hand. The creative approach is an ode to the idea of slow luxury; Negretto says in the film that the artisans count a bag by the number of days it takes to produce, not hours. Throughout, the emotive link between the hand of the artisan and the finished product is explored, showcasing the 'exceptional craft, creativity and concept of quiet power' that Blazy has said are central to his ongoing vision for Bottega Veneta.
'I think luxury is something you feel rather than see; it is much more personal and emotive for the person wearing the clothing than for those looking at them,' he says. 'I want the wearer to be empowered without the clothing being loud. It is style over fashion in its timelessness.'
Watch the film below
Jack Moss is the Fashion Features Editor at Wallpaper*. Having previously held roles at 10, 10 Men and AnOther magazines, he joined the team in 2022. His work has a particular focus on the moments where fashion and style intersect with other creative disciplines – among them art and design – as well as championing a new generation of international talent and profiling the industry's leading figures and brands.