Fashion photographer Mert Alas creates futuristic gin
Acclaimed fashion photographer Mert Alas launches Seventy One, a remarkable new gin designed for post-Covid nightlife. Here, he tells the story of its making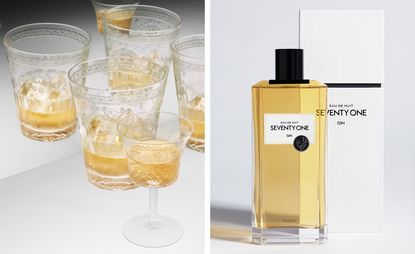 (Image credit: Seventy One)
It was the 71st night, a cold night in Rotterdam, recalls Mert Alas, when he and his team opened the oak casks in which the new gin had been ageing. They hadn't expected to try the contents so soon, but in the end this was all one big experiment, so why not? One sip of the honey-coloured liquid and it was immediately clear – it was perfect. 'The distillery was cold, I had this drink, and it all just came together. I thought, this is it.'
So goes Alas' tale about the creation of his first gin, Seventy One, which launches today (12 July). Speaking to the fashion photographer, and now distiller, over Zoom it quickly becomes clear that he is an engaging storyteller and building a narrative is his preferred method of communication.
His voice takes on an almost rapturous tone as he switches from the basic facts of the story and into a discussion of the characters present, reporting dialogue and describing the setting. Similes and allusions are abundant. 'I live with narratives. I work, I create, everything I do is narrative,' he says.
Certainly, Alas' photography, produced with his partner and collaborator Marcus Piggott, is recognisable for its distinctive visual storytelling. As Mert & Marcus, the duo have become some of the most respected image-makers in fashion by crafting glossy editorials that feature extravagantly glamourised characters playing out off-kilter scenarios.

For Alas, Seventy One gin initially began as an outlet outside this demanding, fast-paced world of fashion photography. 'It started as a passion project; I was just doing it for myself as a way of doing something beyond my photography,' he says. 'I was learning, experimenting.'
A new method
The more Alas experimented, the more he became enamoured with the technical construction of taste, the pairing together of different ingredients to get the results he wanted. 'It was almost like building an orchestra, you know? Thinking, OK, the oboe should do that, the clarinet should do that, and the flute, you do that.' But he found the traditional method of creating gin didn't lend itself to his idea of symphonic harmony.
'Traditionally, gin is made by mixing alcohol with a bunch of botanicals and then vaporising them, heating them up, and the vape becomes the gin. So this is where my question started. I said, "Why am I putting everything in at the same time?" In order for me to conduct this orchestra, I need to know what the clarinet is doing, what the piano is doing. [The traditional method] was impossible.'
The solution? Creating a gin the same way a perfumer creates a perfume. 'I took the absolutes of botanicals individually and then assembled them, like a perfumer would do. So this means that I actually had control over how much the rose should be a top load. How much the juniper should taste more smoked, or more fresh, and so on.
'This gave me a lot of control, but it was also like an exciting nightmare because there were hundreds of choices.'
Tasting notes
In the end, that exciting nightmare yielded a gin with typical ingredients – juniper, coriander, angelica and lemon – as the heart notes, mixed with unexpected flavours, such as rich, resinous base notes of smoke, peat and spicy citrus. These are finished off with the crisp, slightly sweeter tastes of Albanian ivy leaves, grapefruit and damask rose.
The most notable ingredient in Seventy One is an orchid cactus known as Queen of the Night, which blooms for only one night a year. It infuses the drink with a perfumed, jasmine-like flavour, without being as sweet, and sets Seventy One apart as a gin.
Once blended, the gin is aged in a sequence of barrels. These include virgin oak casks from Spain that are charred to impart smoky depth, sherry-saturated American oak casks that lend the sweetness of sherry, and French oak casks that infuse the gin with the warmth of cognac.
It is a round and robust gin with notes that are warm and slightly sweet, a taste that is a little strange but compellingly so. Like all of Alas' creations, Seventy One is designed to tell a story. In this case it's a story about something that has been hard to come by in recent times – the perfect night out.
'For me, nightlife is about having a great drink in a beautiful glass that has got the right amount of ice. Right person in front of me, right words, right music. When that happens, I call that the night that never ends, because we always remember it. So with Seventy One I wanted to create an homage to that.'
Yet the meaning of nightlife has changed since last year, and even when lockdowns around the world lift for the last time, there's a good chance many people will not return to the crowded rooms and sweaty dance floors of the pre-Covid past.
Alas realises this and believes Seventy One is a drink perfectly suited to this new era. 'Seventy One is not for getting drunk,' he explains. 'It will hopefully bring good, creative minds together, minds with voice, minds with ideas, minds with surprises.
'I've got a very good energy, a good feeling about the future,' he adds. 'I feel like the renaissance is now.'
INFORMATION
seventyonegin.com (opens in new tab)
Mary Cleary is the Beauty & Grooming Editor of Wallpaper*. Having been with the brand since 2017, she became an editor in February 2020 with the launch of the brand's new beauty & grooming channel. Her work seeks to offer a new perspective on beauty, focusing on the pioneering personalities, product designs, and transformative trends within the industry.