Chef-designed pastry tools for summer fools and fancies
Famed pastry chef Cédric Grolet discusses his new pastry tools, launched in collaboration with Zara Home, and shares a sweet summer dessert recipe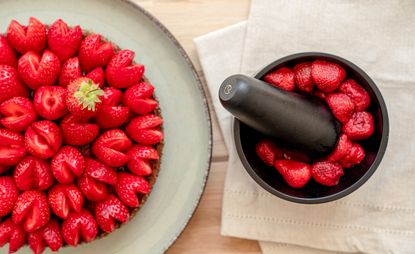 (Image credit: TBC)
'For me, this was an opportunity to create tools that would be as good for amateurs as they are for professionals,' says famed pastry chef Cédric Grolet (who shares a summer dessert recipe, below) chatting over Zoom from his restaurant in Paris.

Grolet is discussing his collaboration with Zara Home on the brand's first line of pastry tools. This collection is both technical and aesthetic. The tools are easy to use, clean and store, while sleek lines and matte black design make them well suited to any modern kitchen.
The story behind Cédric Grolet and Zara Home
The success of the collection is all down to Grolet, a man who is perhaps better equipped than anyone to create a line of pastry tools. A star of the French culinary world, Grolet is executive pastry chef for Le Maurice hotel in Paris, and in 2018 he won The World's 50 Best Restaurants' 'World's Best Pastry Chef' award.

He has channeled his experience into his new line for Zara, creating a line of 12 pastry tools that bring expert-level craftsmanship into a typical domestic setting.
'[In my work] I use many different kinds of tools, very good tools. When I started designing the Zara Home tools, I had in mind the way they would look but also the way they would be used – I wanted them to be easy to wash, easy to reuse, [overall] for it to come as a pleasant surprise that they are so easy to use on a daily basis.'

The collection is composed of a long-handled spoon, a spatula, a hand whisk, kitchen tongs, a black silicone brush, a peeler, a sieve, measuring bowls, a juicer, a rolling pin, and a pestle and mortar.
When speaking about the design of these tools, Grolet notes that it was important to him that they were instantly recognizable as his Zara Home collection. I wanted this collection to be unique, in terms of colours, shape, texture, and material. I walked into this with the same approach I have for my desserts' creation – I wanted to use the material in a way that would be clearly identified [as my own].'
Cédric Grolet's strawberry cake recipe
To celebrate the launch of this collection, Grolet has shared his recipe for fraisier, or strawberry cake. A delectable summer dessert that can be made at home using Zara's pastry tools.
Ingredients for pastry biscuit:
80g egg white
56g sugar
11g milk
25g butter
33g flour T45
40g egg yolks
45g eggs
Method:
Whip the egg whites to stiff peaks with the sugar to make a French meringue. Make a choux pastry by heating the milk with the butter, once hot, add the flour and mix until the pastry comes away from the sides.
Put in a bowl with a pastry sheet and turn until the steam is gone and gradually incorporate the egg and yolk mixture.
Once the dough is smooth, fold in the French meringue in three stages until the biscuit is smooth.
Bake for 25 minutes at 180°C.
Ingredients for candied strawberries:
300g whole strawberries
30g sugar
Method:
Put the strawberries in a gastro tray, sprinkle with sugar and seal with a lid and cling film.
Cook for about 1 hour 15 minutes in a steam oven at 100°C.
Keep the juice to make the strawberry gel.
Ingredients for strawberry gel:
500g strawberry juice
50g sugar
8g agar
3g xanthan gum
Method:
Boil the juice.
Add sugar, agar and xanthan.
Leave to set in a cool place.
When cold, blend two-thirds of the gel in a thermomix until you obtain a smooth gel.
Reserve the rest to make small cubes.
Ingredients for vanilla-mounted ganache:
775g cream
20g Tahitian vanilla 1
72g white chocolate
42g gelatin mass
Method:
Heat the cream and vanilla.
Pour over the gelatin mass and the chocolate.
Blend together and strain.
Ingredients for rum pastry cream:
450g milk
75g cream
125g sugar
40g cream powder
140g egg yolks
50g butter
100g mascarpone
33g rum
Method:
Heat and pour the milk with the boiling cream.
Pour over the whitened mixture of sugar, cream powder and egg yolk.
Boil for 2 minutes, then add the butter, mascarpone and rum.
Ingredients for strawberry cream:
800g vanilla ganache
140g gelatine mass
800g rum pastry cream
108g rum
Method:
Whip up the vanilla ganache.
Melt the gelatin mass and add it to the pastry cream along with the rum.
Mix until you obtain a smooth and homogeneous paste.
Mix the vanilla ganache and the rum custard/pastry cream.
Assembly method:
You'll assemble the cake in a 16cm circular mold, for a cake to serve 6.
After baking, cut out the biscuit cold [to a little less than 16cm] and place it in a 16cm circular mold, lined with a sheet of Rhodoid that protrudes slightly.
Garnish with a light layer of strawberry cream on the biscuit and a larger amount around the edges, and smooth it out so that it is filled against the rhodoid.
Then add the candied strawberries in the centre.
Fill the gap with the mixed gel and gel cubes.
Grate a quarter of a lime and sprinkle on top.
Add a second layer of strawberry cream and smooth the strawberry cake.
Set aside in the fridge for 2 hours, then remove from the mold.
Put strawberry gel on top and add strawberries.
Then pipe 5cm circles around the strawberry cake with the 125mm St Honoré nozzle.
INFORMATION
Receive our daily digest of inspiration, escapism and design stories from around the world direct to your inbox
Writer and Wallpaper* Contributing Editor
Mary Cleary is a writer based in London and New York. Previously beauty & grooming editor at Wallpaper*, she is now a contributing editor, alongside writing for various publications on all aspects of culture.