Tuscan hotel inspires earthy twist to new rug from Nordic Knots and Campbell-Rey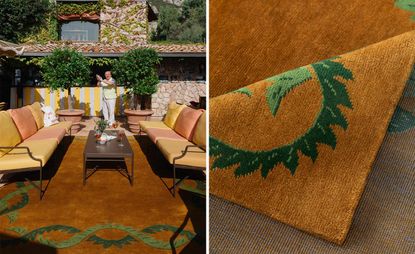 (Image credit: courtesy of Issimo)
An earthy twist of amber and green, 'Climbing Vine' is the result of a collaboration between Swedish rug company Nordic Knots and London-based design studio Campbell-Rey to create a rug design for Italy's Hotel Il Pellicano, where it is debuted this month. It's also available to buy exclusively from Issimo.
Campbell-Rey prides itself on its team's ability to collate historic architectural forms with traditional techniques, resulting in contemporary designs with classic twists. Produced by Nordic Knots with all the quality typical of its plush and minimalist underfoot adornments, the 'Climbing Vine' rug is simple but impactful, and has just enough greenery to be the perfect visual fit in the bright and terracotta-tinged grounds of Tuscany's Il Pellicano.
This new colourway marks the second iteration of the 'Climbing Vine' rug. The first, in lilac, was released as part of an earlier collection from Campbell-Rey and Nordic Knots, comprising three colourful rugs influenced by art deco and Gustavian style, with motifs including wreaths, folding ribbon and nods to garden design.
The latest take on 'Climbing Vine' was inspired by the Italian notion of la dolce vita (an important influence on the work of Charlotte Rey and Duncan Campbell, the design studio's founders) and was a project passionately pursued by Hotel Il Pellicano CEO Marie-Louise Sciò, after Nordic Knots and Campbell-Rey unveiled their collection last year.
Martha Elliott is the Junior Digital News Editor at Wallpaper*. After graduating from university she worked in arts-based behavioural therapy, then embarked on a career in journalism, joining Wallpaper* at the start of 2022. She reports on art, design and architecture, as well as covering regular news stories across all channels.