Bollinger launches La Grande Année 2012
The champagne house's hotly anticipated 2012 vintage delivers on its promise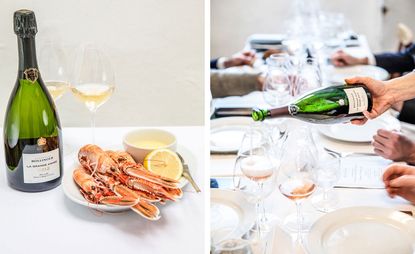 (Image credit: TBC)
There aren't many champagne houses with the legacy and prestige of Bollinger, and its most recent release will only enhance this reputation.

Those of us who enjoy a 'bit of Bolly' will rejoice at Bollinger's latest UK release, the absolutely fabulous 2012 vintage of the Maison's famed La Grande Année and its corresponding Rosé. The 2012 vintage is the premium vintage of the 21st century for Pinot Noir grapes, with a small but outstanding crop due to an almost perfect August and September. La Grande Année contains 65 per cent Pinot Noir, making for a depth and texture rarely seen, and its medium dosage contributes to a simultaneously creamy and delicately bitter champagne - an ideal partner for any budding gastronome.

Fitting, then, that La Grande Année 2012 and Rosé 2012 were launched at St. John Restaurant in Smithfield, with a bespoke pairing menu by Head Chef Steve Darou and founders Fergus Henderson and Trevor Gulliver. Fergus and Trevor were delighted at the opportunity to showcase the wines: 'The 2012 vintage of La Grande Année and La Grande Année Rosé was an exceptional year and it has been an honour to create the dishes to pair with these great wines.
'We have chosen the respective ingredients for each pairing after much careful consideration, with the aim of fully expressing the flavours of the dishes and the wines to their full potential.'

The event was the first stop on Bollinger's 'Le Grand Tour', which will see chefs create menus celebrating single hero ingredients, expertly prepared to pair with each wine. At St. John, fresh poached langoustines from Dorset were served alongside La Grande Année 2012, the sharper elements of the champagne perfect for seafood.

The main, a Guinea Fowl pie, was paired with La Grande Année Rosé 2012. The Rosé has been enhanced by the addition of Bollinger's exceptional red wine from La Côte aux Enfants in Aÿ, reserved for only the greatest vintages. The region originally became famous for its red wine, and Bollinger's special, tiny plot still employs a highly skilled Burgundy winemaking method, almost non-existent in the Champagne region. The hearty, technically challenging pie, a rich, indulgent main, was an apt accompaniment to the deeper Rosé.

After the successful launch at St. John, the second ever Grand Tour will now travel the world, giving top chefs the chance to celebrate these two cuvées alongside the very best in global cuisine. Not bad for a humble grape.