Where art meets design: new gallery Studio Leigh opens up in Shoreditch
Studio Leigh, a new London-based 'commissioning and exhibiting platform', opens in Shoreditch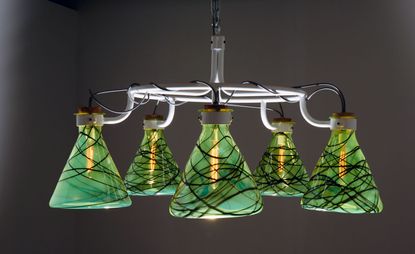 (Image credit: Elias Hansen and Blake Hudson)
Somebody smart, we forget who, recently said that the difference between art and design is that art is allowed to be useless. Design, of course, is not. So is art determined on being useful design by definition?

These questions, and others, are being addressed by Studio Leigh (opens in new tab), a new London-based 'commissioning and exhibiting platform' – somewhere between an art and design gallery – that has asked 28 emerging artists to come up with something useful; and when and where possible, produced with the help of British craft workers, including glassblowers, seamstresses, wood and metal workers, and foundries.

The project has been developed by Tayah Leigh Barrs, who has a worked for Mario Testino and art directed for fashion brands and magazines but has a background in design. (Leigh Barrs has chosen her middle name for the gallery because she wants to explore the 'middle ground between pragmatic and conceptual purpose'.) The results are now on display at Studio Leigh's permanent space, a 19th century former varnishing workshop in Shoreditch.

Works in its opening salvo include: Nicholas Hatfull's Enzo Mari-inspired giant puzzle; Aaron Angell's rowing boat-cum-cat tomb; Nicolas Deshayes' body organ-ish radiators; and Florence Peake's mirrored massage-ball wall. And if an experiment in design-meets-art-meets-craft feels a little past its sell by date, there is genuine wit and invention here (and occasionally even beauty). Some of the pieces have tie-in films and animations and, in a couple of cases, scents. There is a concept and narrative, and a definite seriousness and respect for the central premise – conceptual art's new-found curiosity about craft. It's enlightening to see art heading in that direction and meeting design heading the same way from the other side, as it were. If that wasn't enough, Leigh Barrs is planning to show new works of a similar intent every six weeks.
INFORMATION
Studio Leigh (opens in new tab)'s inaugural exhibition runs until 6 November
ADDRESS
Studio Leigh
4 Garden Walk
London, EC2A 3EQ
VIEW GOOGLE MAPS (opens in new tab)