New bathroom colours create contemplative retreat
The House of Rohl and Wallpaper* have created new bathroom colours for Victoria + Albert baths and sinks. Here, we explore the warm, escapist tones of Dune Retreat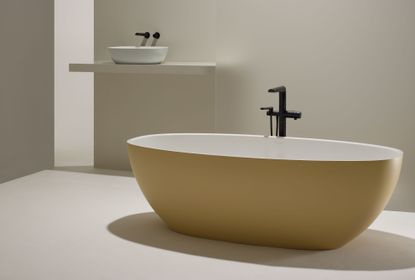 (Image credit: press)
In partnership with The House of Rohl
Wallpaper* editor-in-chief Sarah Douglas developed the Dune Retreat colour palette for The House of Rohl's Victoria + Albert brand with escape and relaxation in mind. Desert architecture and interior design often place an emphasis on light, space and solitude, and desert houses are conceived to allow for thoughtful isolation and big-window contemplation.

Evoking natural minerals such as feldspar, quartz and ochre, the Dune Retreat colour palette channels the open-air bathrooms often found in contemporary desert homes, from Arizona to Morocco, spaces that welcome the outdoors in, with views of vast arid landscapes and towering, blooming cacti. Here, in these dry and delightfully exposed places, water is both an indulgent luxury and a welcome necessity.
Such contemporary desert dwellings reveal how design and material can work in harmony to make life comfortable and luxurious, even amid the challenging climatic conditions of sand plains or subtropical terrains. Like the cactus and the camel, buildings must adapt and respect their environment in order to survive, and to ensure the wellbeing of their inhabitants.

Inspired by the stillness of desert life, its cooling sunsets, shifting sands and baked earth, Dune Retreat's warm, contemplative, escapist tone, can be applied in any home to suggest sanctuary and quiet refuge. During the day, it is a sunny match for untreated, sunbleached wood, and dusty, bone whites; come evening, it's perfectly chilled.
The House of Rohl and bathroom innovation
The House of Rohl ventures to the ends of the Earth to find the most exquisite kitchen and bath fixtures, made with quality craftsmanship and technical prowess. Its five brands, which include Victoria + Albert, create collections of modern innovation, imagination and unique beauty. Established in 1996, Victoria + Albert has showrooms in London and Chicago, and dedicated production facilities in South Africa. Sporting elegant proportions and opulent curves, Victoria + Albert's products are designed to create the perfect bathing experience, transforming any space into a luxurious sanctuary.
INFORMATION
Receive our daily digest of inspiration, escapism and design stories from around the world direct to your inbox