Tristan Auer and Axor redraw the bathroom as living space
'Trust your taste and show it,' says interior designer Tristan Auer as he reveals his concept for the 'Distinctive' bathroom campaign for Axor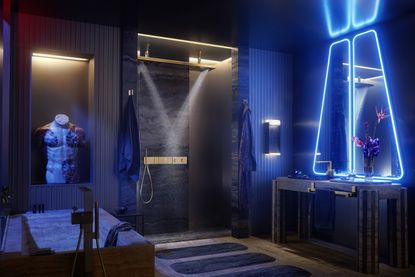 (Image credit: press)
In partnership with Axor
What does it mean when our home reflects not only our taste, but also our unique personality? When the rooms that we occupy become sources of creative provocation themselves? The Germany-based design brand Axor believes multisensorial personalisation in the bathroom to be the ultimate form of luxury and inspiration. Through individual design, Axor creates bathrooms as truly exclusive and luxurious spaces, guaranteeing moments of happiness and holistic relaxation.
But what does this mean, in concrete terms, when designing a room charged with moments of self-conference, a place where we experience intimate ritual and personal moments of freedom? Where we find fulfilment beyond pure purpose delivered via the intuitive technology of rain showers, overhead showers, hand showers, and body sprays, modular shower systems, shower pipes, and intelligent control units?
Further differentiation and refinement is delivered through the design of the taps and the pervading environment. In this context, the bathroom is one of the most complex design tasks of them all.
Via a unique examination of the personalisation of private living spaces, Axor's 'Distinctive' campaign explores ideas of individual luxury by inspiring and empowering architects, interior designers and design-savvy customers to make unique expressions of personal luxury in the bathroom. 
A self-described 'interior and emotion' architect, Paris-based Tristan Auer sees himself as a stage director, with his clients, whom he regards as accomplices, in starring roles. Although renowned for the sensuality of his designs and for his vibrant mixing of colours, lights and eras, Auer never imposes a style on his clients. Instead, he studies them, draws inspiration from them, and creates singular interiors tailored to their individuality.
'For me, it was a gift to be able to do this project, because it's always very interesting to work for myself,' says Auer of the original bathroom concept he developed as part of the Distinctive campaign. 'I could be crazy and not have to please anybody or seduce anybody or teach anything.'
As someone who takes inspiration from place  –  not just the sights but the sounds, smells and textures  – Auer was particularly excited about the Axor brief's suggestion of a high-rise apartment in Hong Kong. 'You know the original Blade Runner movie by Ridley Scott? Hong Kong is like that  –  something which is building on top of itself. Different layers. You have the crowd on the street level, and then, as you elevate, it's more and more futuristic. It's why I combine old antique pieces with very modern textures.'
Noting the similarity between the diamond-cut pyramidal pattern of the 'Axor Edge' tap by Jean-Marie Massaud and the iconic Dupont cigarette lighters Auer remembers from the 1980s proved another key reference. 'I don't smoke, but I like to touch. So, that set the stage  – Dupont, those colours, those ambiances.'
Finished in Polished Gold Optic, the 'Axor Edge' wash basin tap and freestanding bath tap set a striking contrast to the surrounding materials, while the 'Axor ShowerHeaven' and the 'Axor Edge' thermostat provide cutting-edge functionality within the shower area.
Building on the bold, clashing aesthetic, Auer combines reflective stainless steel with neon lighting and offsets it with a graphic mix of light and dark travertine stone. 'It's disruptive and very masculine,' Auer says of the travertine. 'It's very 1980s, as well. You know, you had some perfumes that were very strong in their masculinity. It was a little bit of a reference to this period.' Equally striking are the 'Axor Universal Rectangular' accessories that add a further personal touch to the bathroom.
In case there was any doubt as to the personality Auer had in mind when designing for Axor, he explains without hesitation: 'It's for a man. Definitely selfish. The guy is only thinking about himself. He likes to collect. He's a hedonist. Today, we say that we need to have empathy, to share with everybody else, but I feel like the truth is maybe in-between: you have to do it for yourself first to be able to do it for others.'

The designer's approach to a house's most intimate space is both personal and unconventional. 'I prefer to call it, "room with a bath". It's a real room –  you live in it. That's why you need to have a niche for arts – maybe a painting, maybe some object that's usually found in your living room. So, let's bring it into the bathroom! That's also why I design freestanding washbasins – it's a piece of furniture.'
Whatever space he's designing for, from bathrooms to tailored car interiors, Auer makes clear that individualisation is at the heart of his process. 'I started my career with Christian Liaigre, which was totally bespoke at that time, and I learned to design everything  –  every single door handle. I know the artisans. I know the process. And individualisation is very interesting because, for me, that's luxury, to have something made bespoke.
'You're working with the people who have the know-how, who are artists and craftspeople,' Auer says. 'And when items are made just for you, they are made just once. This is going in the right direction for not consuming too much.'
For Auer, the 'Distinctive' element of the Axor project means 'being an influencer and not a follower. Trust yourself, trust your taste and show it.' Assume an intimate and personal, inward-looking dandy approach, he suggests. 'Not to show off and tell people, 'I'm better than you." But just to say, "OK, I'm like that."'
INFORMATION
Rosa Bertoli was born in Udine, Italy, and now lives in London. Since 2014, she has been the Design Editor of Wallpaper*, where she oversees design content for the print and online editions, as well as special editorial projects. Through her role at Wallpaper*, she has written extensively about all areas of design. Rosa has been speaker and moderator for various design talks and conferences including London Craft Week, Maison & Objet, The Italian Cultural Institute (London), Clippings, Zaha Hadid Design, Kartell and Frieze Art Fair. Rosa has been on judging panels for the Chart Architecture Award, the Dutch Design Awards and the DesignGuild Marks. She has written for numerous English and Italian language publications, and worked as a content and communication consultant for fashion and design brands.