Poetry from Uruguay inspires new range at London Design Fair
On show at London Design Fair that coincides with London Design Festival, Matteo Fogale commissioned works that respond to Juana de Ibarbourou's poetry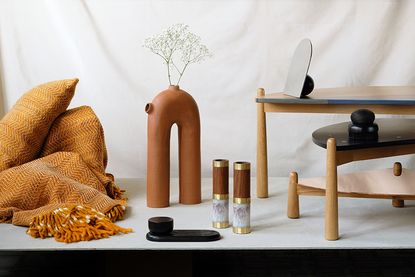 (Image credit: Marcos Villalba)
Plenty of poems have been penned in ode to a cherished place or object, but what happens when the process is reversed and designers are asked to give form to feeling? Matteo Fogale, the London-based Uruguayan designer and curator behind the show 'Poetic Forms: The work of Uruguayan poet Juana de Ibarbourou' did just that by commissioning nine Uruguayan designers to respond to a book of poetry dedicated to the relationship between body and nature.

'I thought it would be very interesting to explore how designers can take inspiration not from visual or physical but instead from an entirely different medium – in this instance – poetry,' says Fogale. 'I was especially keen to see the way in which these designers would respond to a lack of visual stimulation such as specific colours or shapes, instead looking into more abstract expressions formed by words such as our feelings and emotions.'
Juana de Ibarbourou's Las Lenguas de Diamante, which celebrates its centenary this year, offered the ephemeral starting point for a collection of furniture, textiles and accessories on show until 22 September at the London Design Fair at the Truman Brewery in Shoreditch as part of London Design Festival.
Each piece, made from clay, leather and natural fibres, offers a physical interpretation of a poem in the book, an 'unexpected experience' of the work of the influential female Latin American writer.
The floral blooms referenced in El Dulce Milagro were the basis for a pair of unglazed ceramic vessels by Studio Claro. Small openings puncturing the inverted u-shaped vases support single stems, creating tiny oasises in the clay surfaces.

An inky-black collection of personal accessories rendered in hand-carved wood and braided leather by Estudio Diario is inspired by Salvaje, a verse depicting the Uruguayan countryside. There is a round brush with a large knotted handle, an arched mirror supported on a sphere and a tray for small objects.
A collection of pendant lights by Carolina Palombo fuses woodwork with basketry, and a trio of woven textiles titled The Night, The Lake and The Lovers and created by Manos del Uruguay – a yarn producer founded to support women in rural Uruguay – are applied to cushions and throws.
A portrayal of a grove of pine trees informed a trio of leaf-shaped nest tables by Samago, which pivot out from under one another to reveal brightly hued tops and trunk-line legs.
Elsewhere, de Ibarbourou's words have inspired coffee tables, a clock and candle holders – all with a focus on natural resources available in Uruguay. The use of wool, stone, wood and leather draws together the pieces tonally.

'Uruguay is a country rich in natural resources and the relationship with nature is something we are extremely fond of,' says Fogale. 'We see a lot of natural materials and tones, perhaps due to the relation with nature Juana expressed in her poems or as previously mentioned the natural materials typical of Uruguayan design.'
INFORMATION
'Poetic Forms: The work of Uruguayan poet Juana de Ibarbourou,' until 22 September; www.uruguayxxi.gub.uy