Toyo Ito and Rafael Moneo design silk rugs based on the Golden Ratio
Created for an initiative between Phillips and ARTinD, the carpets went under the hammer at the 20th Century & Contemporary Art sale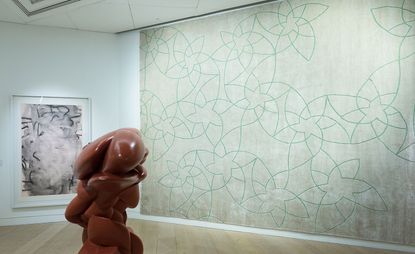 (Image credit: press)
Pritzker Prize-winning architects Toyo Ito and Rafael Moneo are the final contributors to the Golden Ratio project, an initiative between Phillips auction house and Oliva Sartogo's curatorial platform ARTinD that invited ten architects to create a one-off silk carpet inspired by the theme. The series examines the intersection between art, design and architecture, using the Golden Ratio as a compositional tool that unites the fields.
'The architects were invited to use the Golden Ratio as the tool to establish their proposal. In this way, all their projects were different in designs and formats, but at the same time, they were capable to give a unique character to the entire collection,' says Sartogo. 'The architects all reacted in different creative ways; some used the Ratio as a proportion, some as a visual image, some as a historical reference.'

In this instance, Ito's pattern drew on the segmented canopy of the library building he designed for the College of Social Sciences at Taiwan University. Reducing the building to its core components – a smattering of dots representing the columns that support the lily pad roof pieces – the Japanese architect created a spirograph-like pattern of curving lines. The motif is repeated, with pale green threads radiating outwards to connect and erase the points in a fluid composition.
A passage taken from a 16th century text on perspective, La Pratica della Perspettiva by Italian architect and Andrea Palladio patron Daniele Barbaro, is the starting point in Moneo's design. The description of a 32-sided polyhedron is mirrored in his pattern of earthen-toned triangles and pentagons that unfold like a net on a cream background.

Moneo describes the process as a 'pleasurable endeavour' in a video interview accompanying the exhibition at Phillips in Mayfair. 'I didn't realise that it was going to come out so beautiful,' the Spanish architect says. 'For some reasons I find the natural colours always pleasant.'
Graphic interpretations of the Golden Ratio by the late Alessandro Mendini, Norman Foster, Ben van Berkel, Peter Eisenman, Sou Fujimoto, Piero and Nathalie Sartogo, Thom Mayne and Peter Zumthor were recreated in hand-knotted silk to form the first collection in the series, which was auctioned at Phillips last spring. These latest pieces by Ito and Moneo were sold accompanying framed drawings at the 20th Century & Contemporary Art sale at Phillips' Berkeley Square auction house, fetching £40,000 and £37,500 respectively.

'In its practice, ARTinD connects architecture to the world of art, and together with Phillips we allow collectors to access unique creations of major contemporary architects,' explains Sartogo of the project. While the sale marks the conclusion of the three-year initiative, its success has Phillips gearing up for the unveiling of a new collaboration that will once again pull architecture, design and art into a common sphere.
INFORMATION
phillips.com (opens in new tab)