Three new faces prepare for lift-off at Salone Satellite 2017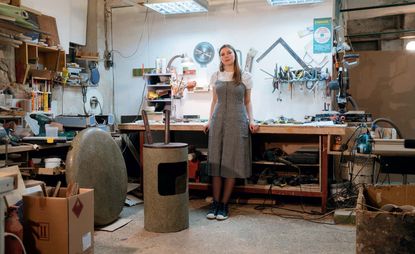 (Image credit: Leo Balanev)
Tanya Repina, Moscow

Winner of first prize at Salone Satellite worldwide Moscow 2016, Tanya Repina is a Russian designer with a penchant for pine needles. She impressed the judges with her sustainable 'Elkiigolki' series of objects, including a chair and table made entirely from pine needles and biodegradable polyester. 'Usually in Russia this component [pine needles] is not used and is disposed of,' explains Repina, who harvests the needles from renewable forests. 'Possible applications for the composite are very broad. It may be used for lamps, furniture, toys, wall panels and more.' As part of her prize, Repina will be showing her work at Salone Satellite 2017 in Milan. The designer, who has founded Moscow-based Aotta Studio with fellow designer Misha Repin, will present a new line of freestanding and wall-mounted sound-absorbing panels made using the same biodegradable material. Needles from a variety of trees – such as spruce, pine and larch – are used to create a range of textures and natural hues. Ahead of her Milan debut, Repina says, 'I'm excited about the feedback from exhibition visitors, and about finding new professional and personal contacts'.
Fang Gao (opens in new tab), Shangahi

'I have always been attracted to creative activities,' says Shanghai-based designer Fang Gao. 'Since an early age, I was always doodling on my desk or hand-making outfits for dolls.' After studying in Gothenburg and interning with Swedish design studio Front, Gao returned to Shanghai last year to set up her own studio. 'Studying and working abroad provided me with a much broader perspective on design and more courage to continue pursuing it as my career.' Walking the line between conceptual and functional design, Gao's work is full of lightness and poetry. Her 'In-between' cabinet, which features sliding wooden grids and translucent panes of coloured glass, was designed to recall the play of light and shadow in a forest. 'I like to design pieces that are intriguing and functional,' she says. Last year, Gao exhibited the 'In-between' cabinet at Salone Satellite Shanghai, where it won first prize. In Milan this year, she will also present her 'Drop' lamp, a naked bulb arched over a black metal frame basket, plus a smile-inducing cat-shaped fishbowl. 'For me, Salone Satellite is a good opportunity to learn – from feedback from visitors and professionals and from seeing other talented designers,' she says.

Gustavo Martini (opens in new tab), Milan

Milan-based designer Gustavo Martini – the Wallpaper* and Officine Panerai Next Generation Designer of the Year – was born in Brazil and has spent the majority of his life in Rio de Janeiro. 'I have a strong sense of connection with the city, which I believe combines two contrasting worlds – the metropolis and the surrounding rainforest.' The contrast between natural and manmade is a recurring theme in the designer's work: sleek graphic lines meet irregular cuts of stone, cork and wood. In Martini's furniture designs, traditional archetypes are stripped back and updated. 'Cabideiro Três' is a sculptural valet stand made from black metal and Brazilian timber, while his 'Gana' stool is designed for openplan living. This is Martini's second year as an exhibitor at Salone Satellite. 'The feedback and the cultural exchange is super intense. Marva [Griffin wilshire] and her team believe with all their hearts in the future generations of designers.'