The making of Kiki van Eijk's 'Standing Mirror'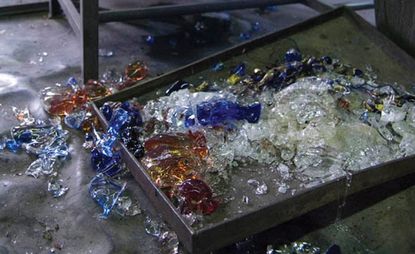 (Image credit: Adriano Berengo )
For our Handmade issue, Kiki van Eijk and Venice Projects created a sculptural, long-necked standing mirror for Wallpaper*, using traditional Murano glass-blowing techniques. Here, Janice Blackburn tells us how the piece came to fruition.
Lost and disorientated in a drab and muddy industrial park on the outskirts of Eindhoven, I wandered into a vast warehouse and found myself in a design wonderland. It was the studio of Kiki Van Eijk (opens in new tab) and her partner, Joost Van Bleiswijk (opens in new tab), crammed with oversized, exquisitely handcrafted objects, including teapots and spoons made for giants, mammoth cabinets, clocks and lanterns, in a variety of materials such as bronze, wood, pewter and porcelain. Alice would have felt quite at home in this strange, surreal workshop.
It wasn't long before we were in conversation and I proposed the idea of introducing the design duo to the entrepreneurial and bombastic Adriano Berengo, one of the few remaining independent glass manufacturers in Murano. One arm of Berengo's company, Venice Projects (opens in new tab), actively collaborates with artists and more recently designers, to produce ravishing limited edition glass objects. I immediately sniffed the makings of a successful collaboration.
Returning to London and numerous emails later, Kiki and Joost flew to Venice as guests of Berengo to explore the possibilities of working together to fabricate one-off limited edition pieces for a collection launched at Sotheby's in May. With little difficulty they agreed to the Berengo proposal. At the same time, and quite coincidentally, Wallpaper's design editor Henrietta Thompson approached Kiki to be part of the Milan 'Handmade' project. They were already considering including a standing mirror and Kiki thought it would be fantastic to make it in Murano glass. With no time to waste Kiki and Joost returned to Murano in late January and work commenced. Seven objects were made for the Sotheby's (opens in new tab) show, as well as Kiki's 'Standing Mirror' for Wallpaper* - a combination of metal (fabricated in Murano) and glass.
Kiki regards the Standing Mirror as furniture. She says: 'It mirrors everywhere: even the legs are made of glass with mirror inside. Everything is glass and mirror.' At the same time it is sculptural and very different from traditional Murano mirrors, using the same techniques but in a different context. 'I would say it's classic but fun. It resembles the idea of the classic "shaving" mirror with a rope that connects it to the "tripod",' Kiki explains.
The final result is both functional and beautiful, with a unique quality that really sums up the ethos of our Handmade issue.