The Haas brothers' bestial new furniture launches at Design Miami/ Basel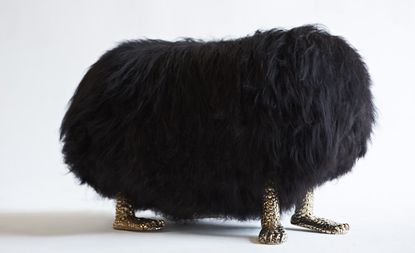 (Image credit: Photography: Ben Cope)
If artists, musicians and furniture designers Simon and Nikolai Haas (opens in new tab) feel they don't have a sufficient number of adjectives before their collective name, they can surely pick up a few this week at Design Miami/Basel (opens in new tab). The Haas brothers' latest range of furnishings - launched in Basel by New York contemporary-design gallery R 20th Century (opens in new tab) - comes with a list of descriptives a mile long, and when viewed at once it casts a whole new light on the craftsmen.

The new collection of reptilian brass tables and feral fur seating has a brutish quality that both attracts and repels. The brass coffee tables and stools employ the designers' groundbreaking hexagon-tile surface to unusual amorphous effect, creating a shape that appears to physically skulk. Combined with Plexiglas to form the 'Unique' lamp and shade, the hexagonal tiles take on a phallic quality that will shock and delight in equal measure - even among the cosmopolitan crowds at Basel.

Sheepskin seating with carved-wood horns and cloven brass feet is reassuringly luxurious - which may explain why when it came to designing the stool, the brothers chose to add feet textured like amphibian skin. One buffalo-fur bench is finished with a matching tail yet remains puzzlingly headless.

These are grand gestures, to be sure, but the Haas brothers - like their similarly outré clients Donatella Versace, Lady Gaga and Peter Marino - have unusual talent to back up their statements. They were both trained in the family business by their stone-carving father. And Simon attended the prestigious Rhode Island School of Design before they began collaborating in the Los Angeles workshop, where they are known to experiment with materials and temperatures like chemists. This collection features pottery that, rather than take on a straightforward glaze, has a so-called 'hand-grown' finish and the title 'Fungus Accretion'.

At Basel this week, their new works will appear alongside those of Greta Magnusson Grossman, Joaquim Tenreiro, Christian Wassmann, David Wiseman and Jeff Zimmerman.
ADDRESS
DesignMiami/ Basel
Basel, Switzerland
Hall 1 Süd, Messe Basel
Booth G13
VIEW GOOGLE MAPS (opens in new tab)