The Days: Design and the Modern Interior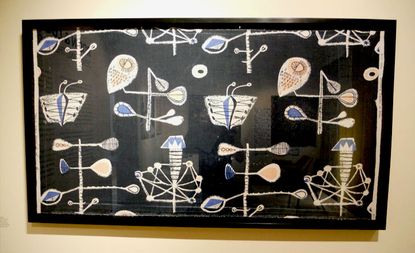 (Image credit: press)
Despite being married for almost 70 years and sharing the same distinctively modernist aesthetic, British postwar designers Robin and Lucienne Day always maintained that they worked separately. At their home in Chelsea's Cheyne Walk from the 1950s to the 1980s, they worked on back-to-back drawing boards in the same open-plan studios yet always for different clients; Lucienne for the likes of Heal's and Rosenthal, Robin for Hille, British Rail and BOAC.
Yet a small but perfectly formed exhibition of their work at Pallant House Gallery in Chichester, Sussex, shows just how complementary their designs really were.
'Robin and Lucienne Day: Design and the Modern Interior', consists of three rooms of Lucienne's textiles and Robin's furniture, arranged chronologically and starting with the 1951 Festival of Britain which launched their careers. For the giant exhibition (which Churchill, upon visiting, declared 'too socialist'), Robin designed furniture for the Royal Festival Hall, and showcased his steel and plywood creations in the Homes and Gardens Pavilion, alongside Lucienne's textiles. One of her finest designs was Calyx, which won an award, was put into production by Heal's and turned her into a design star.
The strikingly modern show is awash with colour, from the duns, greens and greys of the 1950s, through to the Pop Art palette of orange pink and turquoise that influenced their work in the 1970s. Robin's 1956 upholstered seating for British Rail waiting rooms looks impossibly glamorous by today's standards; his dining tables, sideboards and office furniture as relevant as anything made by contemporary designers working now. A young teenage visitor points to Robin's Polypropylene chair (of which there are at least 15million) and says: 'Look, my school chairs!'
Simon Martin of Pallant House co-curated the show with Shanna Shelby, a Denver-based curator who takes care of the collection of Jill A Wiltse and H Kirk Brown III, from which all 48 textiles in the show were borrowed. Says Martin; 'Lucienne passed away last January, Robin in November, so it feels appropriate that the exhibition starts here in Chichester where they died. They produced affordable design, but with a certain aesthetic, and we wanted to show how Lucienne responded to art through the decades, to Joan Miro and Alexander Calder in 1950s, through to Pop Art in the 1970s.'
While you're there, it's also worth checking out a complementary show in the pioneering gallery.'A Tonic for the Nation; the 1951 Festival of Britain' features paraphernalia relating to the festival, much of it whimsical, cute and, these days, collectable.
Emma O'Kelly is a contributing editor at Wallpaper*. She joined the magazine on issue 4 as news editor and since since then has worked in full and part time roles across many editorial departments. She is a freelance journalist based in London and works for a range of titles from Condé Nast Traveller to The Telegraph. She is currently working on a book about Scandinavian sauna culture and is renovating a mid century house in the Italian Lakes.