Lust object: Studio Cremaster tackles taboos around sex and sex toys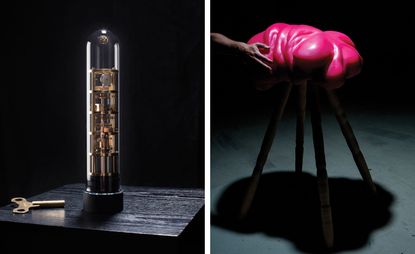 (Image credit: Press)
Sex may often be on our minds, but rarely is the subject dealt with wth artistic flair or a design eye. Wallpaper* has done it, of course – US editor Michael Reynolds teamed up with glass artist Jeff Zimmerman for Handmade 2014 – but design academy Eindhoven graduate Bastiaan Buijs is the latest to rise to the challenge.

For his final year project showcased at Dutch Design Week, Studio Cremaster (opens in new tab) created two sex toys – one for men, one for women – that are as much a visual pleasure as they aim to be sexual one.

'My designs are on the edge of art and function,' says Buijs, aiming to 'make sexual taboos discussable.'

The 'Grandfather Clock' dildo, for example, is an elegant, hand-blown glass vessel, fitted with a brass and metal mechanism which causes it to vibrate. As the name implies, it needs to be wound like an antique clock. And like a clock, it should be on display within a home, not hidden away. Created for men, the 'Satyr' is loosely based on the vaulting horse, with four long legs for stability. The silicone torso also vibrates, with a hole at one end. We'll let your imagination do the rest…

These sexual objects are not a direct attempt at attracting attention, (just a happy coincidence, perhaps), as Buijs explains: 'In both my projects I tried to grasp something beautiful. To find a different way of thinking about sex and sex toys.' It is the moralisation of ordinary sex toys, he says, that he hopes will contribute to the 'breaking of taboos around sexuality'. How better to do that than by making beautiful objects of pleasure?
INFORMATION
For more information, visit Studio Cremaster (opens in new tab)