Set the wheels spinning: 'Cycle Revolution' at the Design Museum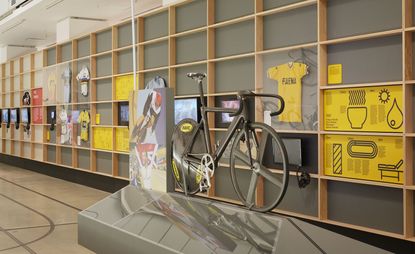 (Image credit: James Harris)
The contemporary cycling boom has – depending on your level of interest – either re-popularised a superlative machine, or merely transformed the British landscape into a sea of overstuffed lycra. Either way, it's a phenomenon; spurred on equally by the Olympic and Tour successes of Wiggo, Hoy, Froome et al, and initiatives like the government's Cycle to Work Scheme (the perfect combination of illusory bargain and legal tax avoidance).

Given this, the Design Museum's current exhibition on velo-design and contemporary cycling culture, 'Cycle Revolution', feels both overdue and a little underwhelming. It looks lovely, of course: from the vertiginous tree of patina'd frames that stretches up the museum's stairwell, to the wraparound wall of mounted cycles, the visual curation is every bit as impressive as you'd expect.

Rather, it's the concept that jams the brakes on. In what feels like an attempt at comprehensiveness (a tough ask given the topic), the show is organised into four thematic 'tribes': 'High Performance', 'Thrill Seekers', 'Urban Riders' (in this instance, commuters) and, randomly, 'Cargo Bikers'. It's an overly broad scope which leaves the show anchorless; a mish-mash of (admittedly impressive) bits-and-pieces without a defined core.

'High Performance' is the strongest section by some distance and carbon-heads will doubtless be awestruck by the inclusion of myriad medal-winning models (from Chris Boardman's Lotus Type 108, Chris Froome's Victory Team Sky Pinarello and David Millar's Rennie Mackintosh-inspired Commonwealth Games Cervélo among them). In a largely Anglo-centric selection – understandable given the British dominance of the sport over the past decade – it's also nice to see the inclusion of Eddy Merckx and Francesco Moser's Hour Record bikes from 1972 and 1984, respectively (and the visual segue from Merckx's retro steel fixie, through Moser's chromed lo-pro and on to Wiggins' space-age Pinarello Bolide HR is enlightening). The darlings of Team Sky are an inevitably looming presence – an expansive infographic on 'What it takes to win a Tour' and a short film on the team are particularly insightful.

There's little on street and fixie culture here, but steel enthusiasts should be sated by the aforementioned Merckx number, as well as the enclave (replete with in-progress frames, unpacked boxes of loose Columbus tubing and Brooks saddle stools) dedicated to artisan and independent makers such as Mercian, Donhou and Toad, each explored in documentary form.

Similarly, trials, mountain biking and BMX racing are under-represented, having still not attained the glamourous cache that road racing has seen in its resurgence. Go-to names like Shanaze Reade, Danny MacAskill and Martyn Ashton are factored – and there's thoughtful coverage of the Peckham BMX Club community youth scheme – but that's pretty much your lot. There's also a Raleigh Chopper, because no cycling exhibition is complete without one, apparently.

After tracking onwards through commuter vehicles (Bromptons, Moultons, Stryders etc), cargo and 'Future Bikes' (think a variety of dropped top tubes, recumbent and conventional takes on cycle design in alternative materials, though the space also includes information on cycling infrastructure in nine global cities), the show culminates in a movie of testimonials from such luminaries as Paul Smith, Norman Foster and Brompton boss Will Butler Adams. 'Cycling to me means freedom,' the latter concludes. 'That feeling hasn't changed.' It's an essential, existential sentiment, briefly summing up what makes the humble bicycle such a precious machine to so many – though one which 'Cycle Revolution' fails to truly harness outside of these final moments.
INFORMATION
'Cycle Revolution' is on view until 30 June 2016. For more information, visit the Design Museum's website (opens in new tab)
Photography: James Harris
ADDRESS
Design Museum
28 Shad Thames
London, SE1 2YD
VIEW GOOGLE MAPS (opens in new tab)