Pierre Yovanovitch's desk accessories for Dior are inspired by the south of France
'In the age of at-home work and virtual meetings, there is something very romantic about juxtaposing modern work life with well-crafted, tangible desk accessories,' says Pierre Yovanovitch upon debuting his collection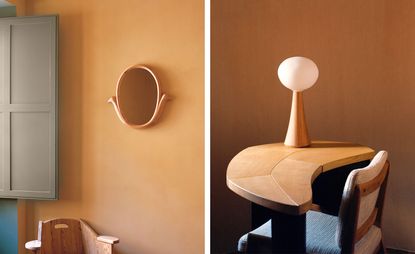 (Image credit: Julien T Hamon)
Pierre Yovanovitch's desk accessories collection marks a radical departure for the Dior Maison brand, which is renowned for its fine porcelain, toile de Jouy patterns and Cannage-patterned crystalware. 'Midi', as the 15-piece new collection is called, is characterised by sculptural lines and a pared-back material palette, less lavish Parisian salon and more evocative of a countryside retreat.
Despite the typically exquisite craftsmanship, there's a refreshing groundedness to these pieces, which the brand describes as 'an invitation to indulge in the sweetness of life'.
'Midi' desk accessories by Pierre Yovanovitch for Dior
This is Yovanovitch's second collaboration with Dior, following on from 'Monsieur and Madame Dior', a unique pair of chairs that were a standout attraction at the brand's 'Chaise Medallion' group exhibition at Milan Design Week 2021. It is natural that Dior would want to extend its partnership with the French interior and furniture designer, but perhaps more of a surprise that Yovanovitch would team up with a manufacturing partner for this more widely available collection. After all, he already benefits from longstanding partnerships with leading French and Swiss craftspeople, and launched his namesake furniture label in 2021 to critical acclaim. So 'Midi' comes not out of a desire for a platform or prestige, but rather Yovanovitch's affinity for Monsieur Christian Dior.
'Christian Dior's love of and history with Provence was a big influence for me, as a native of this region, and it's something I reference often in my own work,' says Yovanovitch. While Monsieur Dior is usually associated with the cosmopolitan Paris, where he found his fame, he had a yearning for southern France (colloquially known in French as 'le Midi', hence the title of Yovanovitch's collection), where in 1950 he bought the Château de la Colle Noire, a place he could withdraw to and renew inspiration as a creative. 'Its serenity suits the period of life that I will have to tackle in a few years [...] that is where I can finally live quietly, forgetting Christian Dior to just become Christian again,' Monsieur Dior wrote of the property.
Yovanovitch continues the story: 'I find the same solace in my own property, Château de Fabrègues, 65km away from La Colle Noire. In this way, the collection is an homage to these two emblems of creative solace and rejuvenation.' With Midi, Yovanovitch aspires to create objects that live up to Monsieur Dior's description of La Colle Noire: 'simple, solid and noble'.
Hence the uncomplicated but still distinctive forms of the collection, the use of solid oak and hornbeam, left unpainted so the user can admire their sinuous grain, and the visible box joinery to highlight the enduring appeal of craft (Yovanovitch worked with specialised craftspeople from Les Vosges, a region in eastern France that is known for woodworking). And hence the choice of objects, which includes some old typologies brought into a contemporary context: a table lamp, a mirror, a cigar box, a trinket tray, four serving trays, two tissue boxes, a pencil container, two picture frames and two candleholders.
'In the age of at-home work and virtual meetings, there is something very romantic about juxtaposing modern work life with well-crafted, tangible desk accessories,' says Yovanovitch. 'It brings something thoughtful and special to an otherwise uninspiring setting.'
While the pencil container and picture frames sport geometric lines, the tissue boxes are gently flared towards the bottom, showing a dash of whimsy that is characteristically Yovanovitch. The circular serving tray (with a delightfully wavy crown) and rectangular serving trays are lined with Italian leather in rich beige and warm grey, gently embossed with the Dior monogram; while the cigar box has a tented top whose contours one cannot help but caress. The table lamp, with its curved conical oak base topped with a bulbous glass orb, is subtly anthropomorphic. The stars of the collection are no doubt the candleholders, whose tactile forms look hand-chiselled, and the hornbeam mirror, with an oval frame that seems to emerge from the necks of a pair of swans.
'Working with a team who has shared commitment to craft and quality is crucial, and Dior Maison was uncompromising in this way,' recalls Yovanovitch of the fruitful collaboration.
The launch of the 'Midi' collection coincided with 'New Alpine', a showcase by Yovanovitch's namesake label at the Nomad St Moritz fair in early March 2022, including old and new furniture pieces inspired by the Swedish 'Sportstugermöbler' movement created by Axel Einar Hjorth.
'By doing these launches simultaneously, I wanted to create a through line with the two works,' concludes Yovanovitch. 'The two collections tell a shared story of celebrating craft and materiality.'
INFORMATION
dior.com/maison (opens in new tab)
pierreyovanovitch.com (opens in new tab)
TF has been editor of Wallpaper* since December 2020. He is responsible for our monthly print magazine, planning, commissioning, editing and writing long-lead content across all our content pillars. He also plays a leading role in multi-channel editorial franchises, such as our annual Design Awards, Guest Editor takeovers and Next Generation series. He aims to create world-class, visually-driven content while championing diversity, international representation and social impact. TF joined Wallpaper* as an intern in January 2013, and served as its commissioning editor from 2017-20, winning a 30 under 30 New Talent Award from the Professional Publishers' Association. Born and raised in Hong Kong, he holds an undergraduate degree in history from Princeton University.
With contributions from