A new collection of furniture combines Italian and Japanese craftsmanship
Italian furniture company De Padova and Japanese brand Time & Style join forces on a collection of furniture that marries the two countries' aesthetics and craftsmanship traditions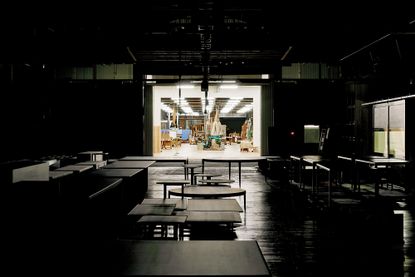 (Image credit: courtesy of Time & Style)
When Ryutaro Yoshida founded furniture company Time & Style in the 1990s, he put artisanal production at the heart of its MO, ensuring its ethos and aesthetic remained unmistakeably Japanese. 20 years later, and while the company now boasts an international market and stores in two continents, their master craftsmen at the Hokkaido production facilities are held in the highest regard, and utmost respect is paid to natural materials. Now their Japanese craftsmanship expertise has been harnessed for a collaboration with Italian brand De Padova.

'Ryutaro's passion is to keep having these products made by these people,' says Roberto Gavazzi, CEO of Boffi DePadova. 'His company is a tool of transmission of what Japan is able to do, but interpreting it in a more contemporary way.' Gavazzi was taken aback by the 'sophistication' of Time & Style: 'I fell in love with their way of producing, which is the same more or less, as it has been for centuries;' he says.
Comprising 17 pieces in total, the Time & Style Edition collection has Japanese craftsmanship at its core and the concept for each piece in the collection has been thought through to the tiniest detail. The delicate, barely-there 'Sensitive Light' chair is intended to be easy to move around the home. The 'Bombori' lamp nods to traditional Japanese paper lanterns, with a shade created from washi paper, and a structure of hand-bent wooden spines.
For certain pieces, Italian rather than Japanese production made sense: 'Japanese craftsmanship isn't as strong in the case of sofas and beds as it is in Italy, so for these Time & Style's designs will be produced by De Padova,' says Gavazzi.
While they may not seem immediately obvious at first, similarities between Japanese craftsmanship and Italian design culture become impossible to overlook. Both countries have an innate ability to be firmly rooted in their respective pasts, while fostering some of the most forward-thinking examples of modernity and contemporary design. They may be worlds apart in terms of aesthetic, but through this collection, Time & Style and De Padova are showing that when the cultures come together, they cement their spot on the world stage as a design tour de force.
'There is a huge geographical distance, but in reality there is a closeness in terms of design sophistication,' Gavazzi adds. 'For me, this collection shows two very different cultures coming together in a very beautiful way, and that the mix of the two works better than the individuals standing alone.'
INFORMATION
timeandstyleedition.com (opens in new tab)
depadova.com (opens in new tab)