Modernist movers: Walter Knoll celebrates 150 years with eight new designs
Germany's most enduring upholstered furniture brand celebrates its 150th birthday by launching eight new products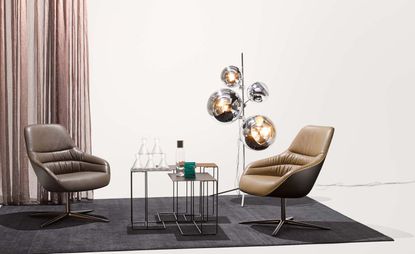 (Image credit: press)
Founded by Wilhelm Knoll as a leather shop in Stuttgart in 1865, German brand Walter Knoll (opens in new tab) celebrates its 150th birthday this year. Staying true to its roots, both in terms of location and ethos, the brand's manufacturing operations and HQ proudly remain in Germany while first-class craftsmanship stays firmly at the top of the agenda.

Over the years, the brand has enlisted the talents of international design stars such as Great Britain's Norman Foster and PearsonLloyd; EOOS from Austria; Ben van Berkel from the Netherlands; Kengo Kuma from Japan; and Claudio Bellini from Italy, to create distinctly modern furniture pieces that stand the test of time.

Not wanting to let its 150th anniversary slip by without a celebration, Walter Knoll has held various events throughout the year, and has launched no fewer than eight new products to mark the occasion. Pieces include a sofa and various side tables by Vienna-based design firm EOOS, a reissue of the 'Berlin Chair', originally designed in 1975 by Meinhard von Gerkan for the VIP lounge of Berlin's Tegel Airport, and a set of award-winning lounges by ergonomic experts PearsonLloyd.