Matter Design and Sanford Biggers explore liminal realms in Detroit
The MIT-based design practice and American visual artist present a collaborative exhibition during the 12th annual Detroit Month of Design (on view until 17 December 2022)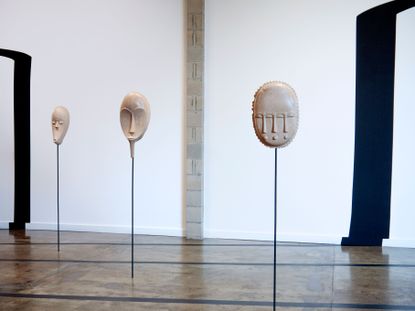 (Image credit: courtesy Wasserman Projects, Detroit)
At Wasserman Projects, an experimental art space in Detroit, Michigan, a megalithic concrete sculpture teeters in the bare-bones warehouse. The work is in conversation with an installation of suspended wood objects and gradient-dyed knotted rope, hung just so their heights reflect the relative distances of the stars in the constellation Orion to Earth.

Titled Janus, after the ancient Roman god of thresholds – and of transitions, duality, doorways, beginnings and endings – it is the seminal work from which 'Ancient Entanglements', this collaborative exhibition by Matter Design's Brandon Clifford and Jo Lobdell together with Sanford Biggers, sprung.
'We share the mantra of trying to find really ancient ways of thinking and using the associations that we have as contemporary society,' says Brandon Clifford, director of Matter Design. He was a Rome Prize Architecture Fellow in 2018, when Sanford Biggers was a Visual Arts Fellow at the American Academy of Rome. 'We intentionally shaped the show around our shared conversations regarding depths of time. Many of the impactful conversations we had with Sanford in Rome centred around the potential to charge an object with a cultural meaning through performance.'

Biggers' multifaceted practice routinely challenges preconceived ways of looking at history and art itself by juxtaposing cultural meanings. At the American Academy, he says, he 'started to engage with a body of work that was coming out of my interest in ruins.' Commonly called 'spolia' in an architectural context, Biggers points out that these 'leftover and ruined pieces' sometimes also included sculpture.
For some time prior, Biggers had been painting on antique quilts – his own form of spolia. Ruin-strewn Rome proved a fertile breeding ground for experimenting more keenly with this idea of 'taking something that already exists and using it as a foundation to make other work.' In his idiosyncratic way, the artist began making scans of ruins 'sometimes directly from museums, sometimes from tchotchkes I found in gift shops, sometimes from things I found online, and combining them with various African masks and elements from objects [from] my personal collection.' From this research, the artist created hybrid pieces he named 'chimera'.

It became clear to Biggers and Clifford that they were 'grappling with the same problems, just through different lenses.' Collaborative experimentation ensued. 'I wanted to take those chimera pieces that up until that moment I had been doing in marble,' explains Biggers, 'and experiment with different materials, different scales.' Clifford and Lobdell's interest in ancient and futuristic methods led to the employment of 'advanced computation and virtual modelling to form the pieces,' which are also carved on CNC (computer numerically controlled) mills.
Beyond Janus and the Orion constellation, the works in 'Ancient Entanglements' comprise triads of objects that allow the viewer a multi-dimensional view of Biggers' formal explorations of perspective and depth, gesture and tone as well as his nuanced critique of cultural archetypes. There are three maple wooden spindles, digitally worked iterations of the Caryatids of the Acropolis, and three versions of an African mask that bear an uncannily symbiotic – or is it parasitic? – imprint of an imagined wearer's face. Biggers' Nesting Venus melds two canonical historical works, the Venus de Milo and the Venus of Willendorf, literally entangled; both fully realised. 'I think significant works have many lives,' muses Biggers. 'It's something that we've learned from hip hop: taking a sample of an old song and having it served back in a new way. You gain a new understanding of the original and find a new way to reinvent the narrative.'
INFORMATION
Ancient Entanglements is on view until 17 December 2022
wassermanprojects.com (opens in new tab)
ADDRESS
3434 Russell St #502
Detroit, MI 48207
VIEW GOOGLE MAPS (opens in new tab)