Louis Vuitton brings Pierre Paulin's long-awaited collection to life four decades on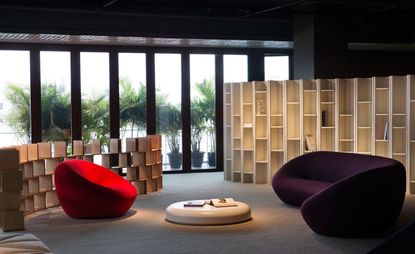 (Image credit: Seth Browarnik)
There is a school of thought that there is nothing new in art. And it's hard to contest that when even at Design Miami, where some of the most innovative concepts take centre stage every year, the most groundbreaking exhibition turned out to be a design that was already 44-years-old.

At the Aranda Lasch space in the epicentre of Miami's ever-flashier Design District, Louis Vuitton unveiled 'Playing with Shapes', the realisation of a long-awaited design by Pierre Paulin. The designer was the leader supreme of swinging-Sixties experimental furniture in France, who sadly died five years ago leaving his widow Maia and son Benjamin to manage his legacy into the 21st century.

The exhibition showcased 18 furniture designs, originally conceived for Herman Miller, that together offer a groundbreaking solution for modular living. Having conducted extensive research into the changing living arrangements and increasingly nomadic habits of people at the time, Paulin's goal was to make it possible to use furniture to move beyond the limitations of any given room – to make a system that allowed the user to become the architect of their own space.

Financial issues meant that the collection was never produced, and the designer's only small-scale model (which has resided in the Pompidou Centre in Paris), sketches and preliminary plans were all that ever came of the project in Paulin's lifetime. That it had remained unrealised was always one of his greatest professional regrets, says Maia – who jumped at the opportunity to show the maquette to the team at Louis Vuitton.

'I remembered the [Charlotte] Perriand project which Louis Vuitton spearheaded last year,' she says. 'It was a wonderful project that could only have been realised through the daring of a powerful partner. We discussed it with them and the adventure was off to a start. The values that Louis Vuitton and Pierre share, a drive for innovation and excellence, made it a natural fit.'

Paulin was a pioneer in his use of new structures (losing traditional chair legs for example, and bookshelves as room dividers) and transforming textiles such as plastics, resin and stretch fabrics in ways that had never been done before. But his main concerns were elegance, utility and a commitment to an economy of means. 'La Maquette' is based on a six-storey grid layout where modular horizontal and vertical elements (floor, seating, walls and storage) can be arranged to create any number of living spaces and rooms that are as functional as they are simple and stylish.

Louis Vuitton's beautiful productions of 'La Maquette' echo the ergonomic, sculptural forms of the original maquette with true sensitivity and care. Perhaps there is nothing new in art, except talent. And as is proved time and again, real design talent is timeless.