Jonathan Saunders makes his first foray into furniture design
Jonathan Saunders on re-learning and slowing down for his first furniture collection that debuts at Frieze LA this week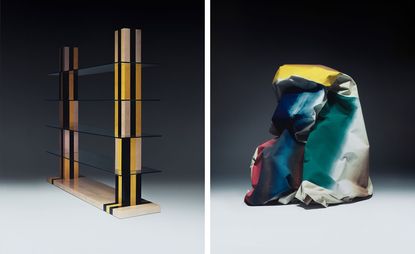 (Image credit: Image Group)
'It's been a long time in the making,' says designer Jonathan Saunders, of his inaugural furniture collection that unveils at Frieze Los Angeles this week. Geometric, simple forms and a focus on discordant colour combinations is at the core of the range, that he titles with his surname.
'When I started the development, I had an almost pent-up need to try lots of different techniques,' he explains. 'I wanted to work with resin, with stone, and all these combinations of materials.' That said, he's constrained himself to three groups that form the basis of the pieces: marquetry, tubular steel and textiles.
The tubular steel group includes a square stool with leather upholstery; a 'pyramid' table made of interlocking squares with an inset resin top; and an armchair with a lattice work of nylon webbing. The marquetry group uses sycamore and stained beech to create a long bench, a set of shelves with crystal surfaces and a cube stool. For the textile group, Saunders wanted to explore a more free-spirited approach, creating one-off textiles for interiors, upholstery and wall hangings, made using his signature free-pouring and screen printing technique.
Saunders' segue chimes with a general consumer yearning for something slower, deeper, and meaningful. Concerned with the snowballing pace of not just fashion but life in general – less time, more output (no doubt amplified by his time in America where the emphasis is oft on product and mass scale) – the Scottish designer was drawn to the permanence and process of furniture. 'Your home, the environment that you live in, the experience that you have in that space, feels really important and relevant right now.'
'Leaving DVF (where he was chief creative officer 2016-2018) allowed me to really focus my time on developing this thoroughly, and almost re-learning the skills I had when I was younger, like screen printing,' Saunders explains. 'Of course, I'm working with artisans and specialists – some in Europe and some in New York where my studio is – to realise the final pieces but it's very much a "hands on" approach, learning about these traditional techniques executed in a modern way.'
The process has been eye-opening, if not challenging at times, admits Saunders. 'As a fashion designer you get used to working in a much more instantaneous way. It creates a spontaneous need and desire for change. But when it comes to furniture, it's something that's much more permanent in people's lives. You have to consider ergonomics, the practicalities of standing the test of time. I had to re-educate myself to develop an idea over a much longer period of time.'
Long before his move to New York from London in 2016, Saunders had the seeds of the idea. 'I studied product design at Glasgow School of Art as my first love. I progressed into fashion almost indirectly because I was involved in making things and I love textile design and it was a natural progression for me to go into fashion. But for many years I was always thinking I wanted to make furniture as part of my own collection but there was just never any time.'
How does he imagine the collection will develop? 'Right now, everything is made to order or developed specifically for individual clients. But the scope of the brand will be broader than one-off bespoke pieces of furniture,' he clarifies.
'I'm interested in developing more democratic pieces with a broader appeal, but that still allows you to have an emotional connection with something, that still has the language that I've used in terms of colour balance and material choices. So, I'm starting in this way with furniture and then branching off into other categories, other pieces, and customer bases, but that's all to come. I haven't given myself any constraints. I want to have a free attitude towards what this brand can become.
INFORMATION
The Saunders Furniture collection is price on request. saundersstudio.com (opens in new tab)
Tilly is a British writer, editor and digital consultant based in New York, covering luxury fashion, jewellery, design, culture, art, travel, wellness and more. An alumna of Central Saint Martins, she is Contributing Editor for Wallpaper* and has interviewed a cross section of design legends including Sir David Adjaye, Samuel Ross, Pamela Shamshiri and Piet Oudolf for the magazine.